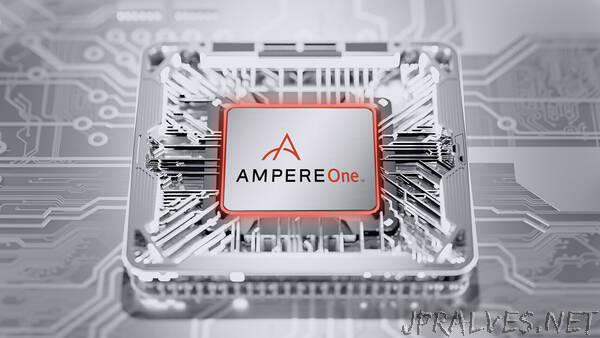 "Ampere® Computing today announced a new AmpereOne™ Family of processors with up to 192 single threaded Ampere cores – the highest core count in the industry. This is the first product from Ampere based on the company's new custom core, built from the ground up and leveraging the company's internal IP.
CEO Renée James, who founded Ampere Computing to offer a modern alternative to the industry with processors designed specifically for both efficiency and performance in the Cloud, said there was a fundamental shift happening that required a new approach.
"Every few decades of compute there has emerged a driving application or use of performance that sets a new bar of what is required of performance," James said. "The current driving uses are AI and connected everything combined with our continued use and desire for streaming media. We cannot continue to use power as a proxy for performance in the data center. At Ampere, we design our products to maximize performance at a sustainable power, so we can continue to drive the future of the industry."
Ampere, which created the Cloud Native Processor category with its Ampere® Altra® and Ampere® Altra® Max processors, has remained intensely focused on fulfilling a commitment to deliver a predictable and rapid cadence of products that lead the market in performance and efficiency. Today, the company introduced its newest family of Ampere core-based products, AmpereOne, to take efficient, performance computing further than it has gone before.
With AmpereOne, the company is broadening its portfolio while delivering further gains in performance, scalability and efficiency. Ampere® Altra® and Ampere® Altra® Max will continue to serve the Cloud along with other key segments that need the highest performance at the lowest power.
"AmpereOne is about more. More cores, more IO, more memory, more performance, more cloud features," said Jeff Wittich, Chief Product Officer at Ampere. "With our Ampere Custom Cloud Native Cores, this is the next step in the break from the constraints of legacy compute. No other CPU comes close. It is about cloud scale with the maximum performance per rack."
AmpereOne is built from the ground up with 192 custom designed Ampere cores, large cloud-optimized private caches, and new cloud features aimed at high-growth cloud usages like AI. These features, such as Mesh Congestion Management, Fine Grained Power Management and Memory Tagging also improve performance consistency, manageability and security for high performance, highly utilized multi-user environments like the cloud. The entire platform is scaled with the addition of eight channels of DDR5 memory and 128 lanes of PCIe Gen5 IO. The processor is being manufactured on the 5nm process node. "The result of all this innovation is the most efficient and highest performance core in the industry for cloud workloads," Wittich said. "AmpereOne provides Ampere's customers the highest overall performance, scalability and density for Cloud Native workloads," he said, adding that Ampere's Cloud Native Processors offer a performance advantage of greater than 2X over competing CPUs for AI inference due to their lower latency and higher throughput.*
With the addition of the AmpereOne Family, Ampere is growing its portfolio of products to address all Cloud Native compute needs – from the lowest power and most constrained to the largest scale customer requirement. The confidence in this product portfolio is seen through Ampere's growing customer base, which includes leading CSPs such as Google Cloud, Microsoft Azure, Oracle Cloud, Alibaba and Tencent, as well as leading OEMs like HPE and Supermicro.
James said there was a fundamental architectural shift happening that makes more performance at greater efficiency the new imperative.
"It is time for us as an industry to meet the moment and embrace change. Our future growth as an industry depends on it," she said. "The Cloud has ushered in a whole new world and approach to software development. Isn't it time for the microprocessor to do the same?"
The need for this architectural shift is heightened by the exponential growth of compute, she said, which has resulted in competition for power resources between data centers and critical commercial and residential developments. "Sustainability is no longer just part of an ESG effort – it is critical to all future compute growth.""