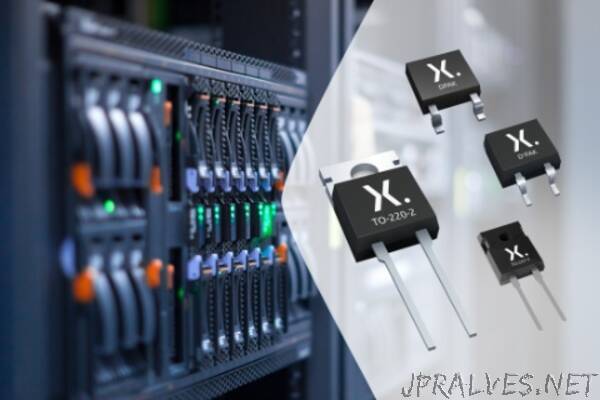 "Nexperia, the expert in essential semiconductors, today introduced a 650 V Silicon Carbide (SiC) Schottky diode designed for power applications which require ultra-high performance, low loss, and high efficiency. The 10 A, 650 V SiC Schottky diode is an industrial-grade part that addresses the challenges of demanding high voltage and high current applications. These include switched-mode power supplies, AC-DC and DC-DC converters, battery-charging infrastructure, uninterruptible power supplies and photovoltaic inverters and allow for more sustainable operations. Data centers, for example, equipped with power supplies designed using Nexperia's PSC1065K SiC Schottky diode will be better placed to meet rigorous energy efficiency standards than those using solely silicon-based solutions.
The PSC1065K delivers leading-edge performance with temperature-independent capacitive switching and zero recovery behavior culminating in an outstanding figure-of-merit (QC x VF). Its excellent switching performance is almost entirely independent of current and switching speed variations. The merged PiN Schottky (MPS) structure of the PSC1065K provides additional benefits, such as outstanding robustness against surge currents that eliminates the need for additional protection circuitry. These features significantly reduce system complexity and enable hardware designers to achieve higher efficiency with smaller form factors in rugged high-power applications. Designers can be further reassured by Nexperia's proven reputation as a supplier of high-quality products in a range of semiconductor technologies.
This SiC Schottky diode is encapsulated in a Real-2-Pin (R2P) TO-220-2 through-hole power plastic package. Additional package options include the surface mount (DPAK R2P and D2PAK R2P) and through-hole (TO-247-2) with a real 2-pin configuration that enhances reliability in high-voltage applications at temperatures up to 175 °C.
Katrin Feurle, Senior Director of the Product Group SiC at Nexperia, adds: "We are proud to offer a high-performance SiC Schottky diode that ranks among the top tier of currently available solutions. In an increasingly energy-conscious world, we are bringing greater choice and availability to the market as demand for high-volume, high-efficiency applications increases significantly."
Nexperia plans to continuously augment its portfolio of SiC diodes by including automotive-grade parts that operate at 650 V and 1200 V voltages with currents in the 6-20 A range. Samples and production quantities of the new SiC diodes are available now."