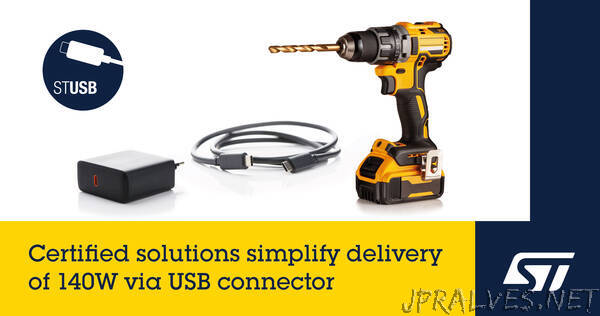 "STMicroelectronics (NYSE: STM), a global semiconductor leader serving customers across the spectrum of electronics applications, has achieved USB-IF (USB Implementers Forum) certification of two ICs for use in adapter (source) and device (sink) sides of a USB Power Delivery (USB PD) EPR power supply/charger product. The new ICs extend the range of a universal charger to 140W. Now, a single AC to DC adapter can charge equipment such as computers, smart-home actuators, power tools, and e-bikes, as well as traditional applications including smartphones, tablets, and smartwatches.
"Leading the way among semiconductor manufacturers, ST is now able to deliver USB-IF-certified reference designs and chips to meet customers' demands for a high-power, industry-standard universal charger/adapter," said Matteo Lo Presti, Executive Vice President Analog Sub-Group, Analog, MEMS and Sensors Group, STMicroelectronics. "By moving quickly to support USB PD EPR and achieve certification, we are accelerating the replacement of custom power plugs and DC barrels in numerous applications with a USB-C® connector. This allows charging with a universal AC or DC adapter, reducing cost and environmental impact."
Certified by the USB-IF to deliver up to 140W (28V@5A), the REF_STUSB140W (sink) and the ST-ONEHP (source) represent two halves of the complete USB PD reference design for the solution. The sink reference design assures designers of an efficient, cost-effective working solution for seamless USB PD integration. The ST-ONEHP is supplied pre-loaded with certified USB PD 3.1 EPR firmware.
Together, the new USB solutions enable a larger universe of applications to adopt a USB-C connector and hence allow charging from a universal AC to DC adapter. This reduces the number of adapters the end user needs to carry and cuts e-waste, while also lowering transportation costs and CO2 emissions.
"The USB PD 3.1 specification represents a significant breakthrough to satisfy the charging demands of a wider range of applications beyond 100W," said Jeff Ravencraft, USB-IF President and COO. "As one of the first USB PD EPR reference designs to achieve USB-IF Certification, ST's latest ICs will accelerate the industry's transition from proprietary power connectors to USB Type-C®."
An active contributor to the USB PD 3.1 specification which includes the Extended Power Range (EPR) definition, the ST solutions are among the first designs certified."