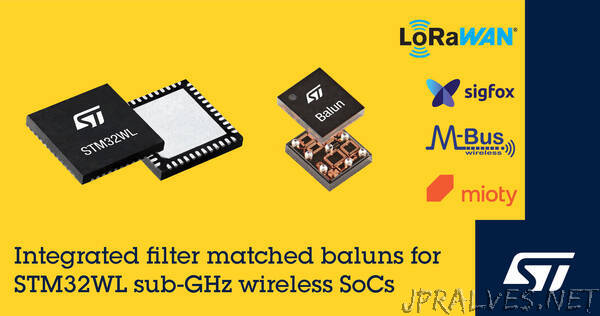 "STMicroelectronics has released nine RF integrated passive devices (RF IPDs) that combine antenna impedance-matching, balun, and harmonic-filter circuity optimized for STM32WL wireless microcontrollers (MCUs).
ST's STM32WL MCUs combine application-level processing and wireless communication for smart, connected devices, by integrating an Arm® Cortex®-M4 MCU with a sub-GHz long-range radio managed by a Cortex-M0+ core. The radio is LPWAN compliant, supports multiple modulation schemes, and comes with LoRaWAN® and Sigfox™ stacks included in the STM32CubeWL MCU software package.
The RF IPDs, packaged as tiny chip-scale devices, connect the STM32WL MCU to its antenna and help maximize the RF performance. By integrating all the components on one die, they ensure consistent performance avoiding the process variations that affect conventional matching networks built with discrete components. They also simplify circuit design, save on bill of materials, and permit a smaller form factor, making them ideal for cost-sensitive and space-constrained IoT devices.
The nine RF IPD variants available let designers choose the optimum parameters according to the RF frequency range and power, MCU package type, and two- or four-layer PCB. The series comprises the BALFHB-WL-01D3 through BALFHB-WL-06D3 for applications at 868MHz and 915MHz. The BALFLB-WL-07D3, BALFLB-WL-08D3, and BALFLB-WL-09D3 are optimized for 490MHz. Each integrates the complete receive and transmit signal paths between the MCU and antenna. The integrated filter provides high attenuation of unwanted transmitter harmonics, helping designers satisfy the regulations set by radio-licensing authorities worldwide.
All devices are in production and offered in a 2.13mm x 1.83mm 8-bump wafer-level chip-scale package that has a profile below 630µm after reflow. They are available now from ST's eStore from $0.20 for orders of 1000 pieces."