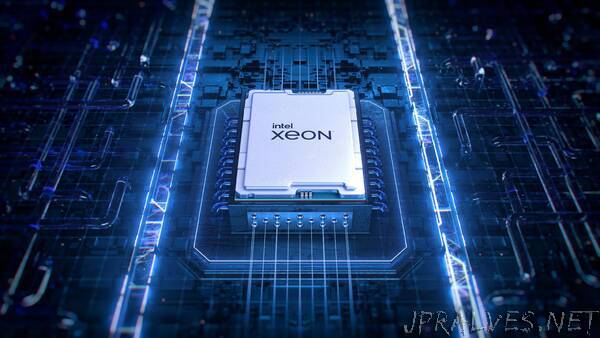 "Intel today announced the new Intel® Xeon® W-3400 and Intel® Xeon® W-2400 desktop workstation processors (code-named Sapphire Rapids), led by the Intel® Xeon® w9-3495X, Intel's most powerful desktop workstation processor ever designed. Built for professional creators, these new Xeon processors provide massive performance for media and entertainment, engineering and data science professionals. With a breakthrough new compute architecture, faster cores and new embedded multi-die interconnect bridge (EMIB) packaging, the Xeon W-3400 and Xeon W-2400 series of processors enable unprecedented scalability for increased performance.
Xeon W-3400 and Xeon W-2400 processors provide the high-end computing foundation that today's professionals require for the future of computing. Support for DDR5 RDIMM memory, PCIe Gen 5.0 and Wi-Fi 6E gives professionals the cutting-edge platform technologies they require for the compute workloads of the future.​ Additionally, support for Intel vPro® enterprise technology, alongside ECC memory and reliability, availability and serviceability (RAS) technologies, ensures workstation uptime is maximized so professionals don't have to worry about workflow interruptions.
Available with up to 56 cores in a single socket, the top-end Intel Xeon w9-3495X processor features a redesigned memory controller and larger L3 cache, delivering up to 28% single-thread1 and up to 120% multithread performance improvements2 over the previous generation. And operational frequencies up to 4.8 gigahertz with Intel® Turbo Boost Max Technology 3.0 provide professional users with incredible compute performance in daily workloads.
Other platform features include:
- Up to 105 megabytes of L3 cache for increased performance and data management.
- Eight channels of DDR5 RDIMM memory support enables up to 4 terabytes of memory capacity and increased memory bandwidth for large data sets and memory-intensive workloads.
- ECC memory and RAS technologies support improved integrity of critical data and system reliability.
- Up to 112 CPU PCIe Gen 5.0 lanes on Xeon W-3400 processors and up to 64 CPU PCIe Gen 5.0 lanes on Xeon W-2400 processors for multi-GPUs, SSDs and network cards give professionals configuration flexibility to meet their next task.
- Integrated Intel® Wi-Fi 6E for the latest network connectivity.
- Comprehensive overclocking support for unlocked processors – including first-in-industry DDR5 XMP 3.0 RDIMM memory overclocking features.3
- 3rd generation Intel® Deep Learning Boost (AMX, Bfloat16) delivers significantly more efficient deep learning acceleration for artificial intelligence training and inferencing.
- Intel vPro enterprise technologies for hardware-enhanced security features, firmware version control and remote manageability enable easy system deployment into the enterprise environment.
When It's Available: Xeon W-3400 and W-2400 workstation processors will be available for pre-order Feb. 15 from industry partners, with system availability beginning in March. The recommended customer price for the Intel Xeon W Processor family starts at $359 (Xeon w3-2423) and scales up to $5,889 (Xeon w9-3495X)."