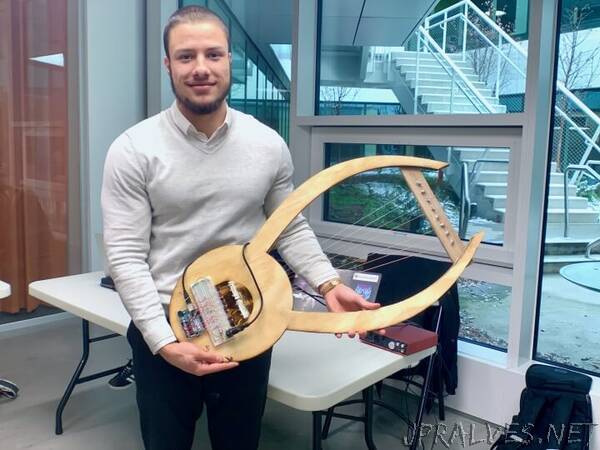 "Student instruments perform at Engineering the Acoustical World Festival
Music and sound echoed throughout the lowest atrium of the Science and Engineering Complex at the Harvard John A. Paulson School of Engineering and Applied Sciences (SEAS). The staccato notes of guitars and lyres interspersed with percussive beats, undercut every few seconds by the warbling tones of a bent saw or circulating water-filled glass. Computer screens managed synchronized light displays or played notes based on hand motions.
"GENED1080: How Music Works: Engineering the Acoustical World" wrapped its Fall 2022 semester with its annual festival, as students combined all their physics and engineering lessons to create musical instruments or other music-related final projects.
"It's so nice to see the students' creativity shine through," said Robert J. Wood, Harry Lewis and Marlyn McGrath Professor of Engineering and Applied Sciences, who created and teaches the course. "When a student says they picked up a new piece of knowledge or technique, or learned something in one of the labs, and are now implementing it in an instrument or composition, it's really satisfying and gratifying."
GENED1080 introduces students to the physics and engineering principles behind a wide range of musical topics. The first seven weeks cover acoustic music topics such as wind and string instruments, human voice, and frequency analysis. The course then switches to electronics, covering everything from circuits and synthesizers to percussion instruments to amplifiers. Weekly labs and projects throughout the semester help students put their lessons into practice, culminating in the end-of-semester festival.
"I really like building stuff, and I do like music. I thought this class would give me a lot of opportunities to build something creatively, and I was right," said Kade Kelsch, a junior mechanical engineering student at SEAS. Kelsh and partner Elliane Sacher created a steppable piano, as made famous in the 1988 Tom Hanks movie, "Big."
Focusing on music makes the course more graspable for a diverse group of students. Freshman with little to no prior engineering or applied physics experience can take GENED1080, and plenty of students who take it concentrate in a non-SEAS field.
"This could hypothetically be one of the only, if not the only, courses with technical content that a lot of Harvard students take," Wood said. "You'd be hard-pressed to find students that are not at least casually interested in music. We want a hook that draws people's attention, and then we use that to learn what's underneath the hood."
By drawing in less technically focused students, Wood's course sometimes even creates new engineering students who would've otherwise studied something else.
"Before this class, I was going to be an economics and biochemistry major," said first-year student Gabriel Ferrer, who turned a hand saw into a stringed instrument. "But now, I might want to be a mechanical or electrical engineer."
Adam Bartholomew is a first-year student enrolled in the dual degree program offered jointly by Harvard and Berklee College of Music in Boston. Bartholomew plans to concentrate in a subject related to human health such as psychology, neuroscience or molecular and cellular biology, but still chose to take GENED1080 in his first semester.
"Over the pandemic, as all the concert halls closed down, a lot of musicians had to resort to using computers to create virtual performances," Bartholomew said. "I taught myself how to use music software to produce music and music videos, but without any formal background in the processes I was using. When I saw the description of this course, it seemed like it would explain the engineering behind music."
For their final project, Bartholomew and first-year students Daniel Kocot and Moeen Razzaque, who plan to study electrical and mechanical engineering, respectively, designed MAD Muscle, which uses sensors to create drumbeats based on muscle contraction.
"We knew that we wanted to do something with the human body," Kocot said. "When we were brainstorming, we decided that sensors on muscles would be sick."
Bartholomew isn't the only student drawn to GENED1080 because of a musical background. Fourth-year students Michael Pak and Zev Nicolai-Scanio both grew up playing instruments, and for a final project created an automated glass harmonica that turns the glasses using a hand crank and plays the notes using a series of dowels that press onto the bowls' rims. Lillian Petersen, an applied math and biology concentrator, worked with Kyra Mo and Patrick Thornton to design a baritone ukulele and lyre guitar.
"My great uncle actually makes instruments, mostly guitars and zithers, and has a whole workshop," Petersen said. "I saw his workshop over the summer, and thought it was extremely cool. When I saw this course, I thought, 'That could be me. I could do that.'"
Because the course is sometimes the first or only course students take at the SEC, it's also an introduction to the Active Learning Labs and Makerspaces. Jonathan Lu, a fourth-year physics and math concentrator, and partner Eliza Knapp used those spaces to create the Frankenstein's Music Cube, each side incorporating a different instrument such as a MIDI keyboard, percussion on multiple surfaces, and a guitar.
"We wanted to incorporate ideas from both the acoustic and electric builds from the class," said Lu. "This simple-looking tool used most of the tools in the Makerspace, such as laser-cutters, metal drills and wood drills."
GENED1080 brings many new students to SEAS, but even experienced engineering students come away from the course with new skills. Nick West and Jerry Yang are both fourth-year computer science students here, but their coursework usually kept them out of the mechanical engineering labs. This course's projects provided the perfect opportunity to learn new tools and skills, culminating in their final project: the Ambient Hand, a program that uses a computer's built-in camera to sense shapes such as an open hand or closed fist, then plays notes according to the shape.
"I'd describe it as an ambient sound generator controlled via hand gestures," West said. "Composers and conductors use their hands to control everything, which makes it a very expressive and powerful movement. So we wanted to take that and use it to create music.""