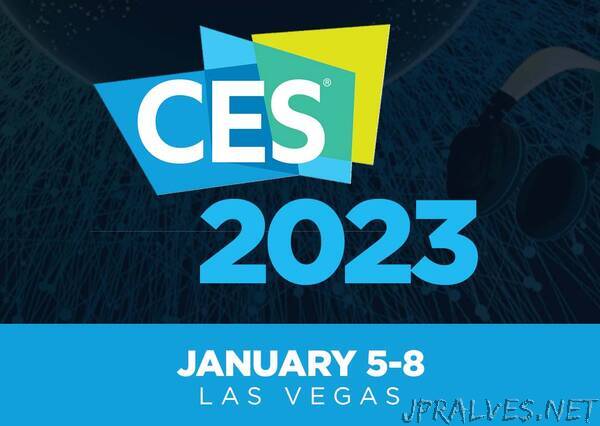 "CES®, the world's most influential tech event, is back in Las Vegas on Jan. 5-8. With more to see than ever, the show footprint will be over 70 percent larger than CES 2022.
For the first time, CES has a theme: how technology is addressing the world's biggest challenges. The Consumer Technology Association® (CTA), in partnership with the United Nations Trust Fund for Human Security, will support the global campaign Human Security for All (HS4A).
"CES is the world's most exciting technology event, from startups in Eureka Park to global brands on the main stages. We are thrilled to spotlight thousands of innovative companies at this year's show," said Gary Shapiro, president and CEO, CTA. "Tech advances are helping to solve the world's greatest challenges, and CES 2023 will set the agenda for the year ahead."
You'll see CES influential brands like Canon, Google, Hisense, Intel, LG Electronics, Nikon, Samsung, TCL and Voxx, in addition to new and expanded areas, including:
- Automotive and Mobility – The automotive sector will be bigger than ever, making it one of the largest auto shows in the world with nearly 300 exhibitors in West Hall. Global launches and keynotes from BMW and Stellantis lead into exhibits featuring the latest in self-driving tech, electric vehicles and personal mobility devices for land, air and sea.
Exhibitors: Candela Marine Technology, GM, Italdesign Giugiaro, Magna, MobilEye, Waymo, RYSE and Volvo Penta.
- Digital Health – The past few years have shown that consumers want to take their health into their own hands. CES 2023 is bringing even more digital health innovations and brands to the global stage, showing how rapidly this market is growing. Look for advancements in digital therapeutics, mental wellness, women's health tech and telemedicine. CTA's Digital Health Studio, presented by The American College of Emergency Physicians, will feature the latest in technology for diagnostic and treatment functions and highlight the importance of remote connectivity for accessible healthcare.
Exhibitors: Abbott, LOTTE Healthcare, MedWand Solutions and Omron Healthcare.
- Sustainability – Global brands like John Deere, LG, Samsung and Siemens will show how innovation can conserve energy and increase power generation, create more sustainable agricultural systems, power smart cities, support access to clean water.
Exhibitors: 3M, Bridger Aerospace, Caterpillar and NexGen Power Systems, Panasonic and Sony.
- Web3 and Metaverse – For the first time, CES 2023 will have a dedicated Metaverse area on the show floor. Exhibitors will showcase groundbreaking sensory technology building immersive, interactive digital worlds. A Web3 Studio, located in the LVCC, Central Hall and produced by CoinDesk, will be the focal point of the Web3, Metaverse and Blockchain area at CES. CoinDesk will host industry leaders and visionaries as they discuss the most impactful developments that have taken root across industries, technologies and capabilities. The show will also feature Web3 programming by the Blockchain Association.
Exhibitors: Magic Leap, Microsoft, OVR Technology and SK.
- Human Security for All – With unprecedented global challenges, the HS4A campaign serves to cultivate collaboration and innovation across all industries, all countries, to improve the human experience. CTA is proud to be part of this first-of-its-kind partnership with the United Nations Trust Fund for Human Security.
Must-See Keynotes – all available via livestream and in the digital venue until the end of February.
- CES 2023 Tech Trends to Watch | Jan. 3 at 4 p.m., Mandalay Bay, Oceanside Ballroom C
- AMD Chair and CEO Dr. Lisa Su |Jan. 4 at 6:30 p.m., Venetian Palazzo Ballroom
- BMW Chairman of the Board of Management Oliver Zipse | Jan. 4 at 8 p.m., The Palms, Pearl Theater
- CTA State of the Industry and John Deere Keynote with CTA President and CEO Gary Shapiro and John Deere Chairman and CEO John May, plus Breakthrough Energy Ventures' Carmichael Roberts and CTA's Kinsey Fabrizio and John T. Kelley | Jan. 5 at 8:30 a.m., Venetian, Palazzo Ballroom
- C Space Keynote: Building Connection & Community in a Non-Stop World with Delta Air Lines CEO Ed Bastian | Jan. 5 at 11 a.m., ARIA, Mariposa Ballroom 4
- Stellantis CEO Carlos Tavares | Jan. 5 at 2 p.m., Venetian, Palazzo Ballroom
- The Future of Care in America: A New Hybrid Model | Jan. 5 at 4 p.m., LVCC W232
- Bold Solutions for a Changing World | Jan. 6 at 10 a.m., LVCC W232
- Great Minds: The Future of the 21st Century Economy with Nasdaq Chair and CEO Adena Friedman and CTA's Gary Shapiro| Jan. 6 at 11 a.m., LVCC W232
- Leaders in Technology Dinner Keynote with Nasdaq's Adena Friedman and FOX Business Anchor Liz Claman, plus CTA's Gary Shapiro and Tiffany M. Moore | Jan. 6 at 7 p.m.
Can't Miss Conference Programs
- Diversity and Inclusion (D&I) – CES 2023 is celebrating D&I champions, funders, thought leaders and pioneers.
- Women in Tech Q&A: Live at CES | Jan. 5 at 11:30 a.m., LVCC Grand Lobby, CTA Stage
- Reframing the Narrative: The Evolution of the Chief Diversity Officer | Jan. 5 at 3 p.m., LVCC W232
- Building an Inclusive Web 3.0| Jan. 5 at 4 p.m., LVCC N250 and livestream
- Product Inclusion Strategies and Successes | Jan. 7 at 10 a.m., Venetian, Startup Stage
- Health, Wellness and Sports Programs – CES is bringing even more digital health innovations and brands to the global stage, showing how rapidly this market is growing and evolving.
- The Future of Sports Health Technology, presented by Abbott | Jan. 5 at 3 p.m., Allegiant Stadium
- Bridging The Gap of Care | Jan. 6 at 11 a.m., LVCC N250
- The Future of At-Home Testing and Diagnosis | Jan. 6 at 2 p.m., LVCC N250 and livestreamed
- Sustainability Programs – Global brands and startups will demonstrate how tech innovation can create newer and more efficient systems of energy generation, improve global food and agriculture systems, support access to clean water, and more.
- Reinventing the Food System for a 10 Billion Person Planet | Jan. 5 at 9 a.m., Venetian, Marcello 4404
- Great Minds: Tech for Good: Providing Relief and Building Longer Tables with world-renowned chef José Andrés | Jan. 5 at 11:50 a.m., LVCC W232
- Tech Dev in Low Earth Orbit - An Astronaut's Perspective from Space – Join a NASA astronaut for a live discussion from the International Space Station | Jan. 6 at 8:30 a.m., LVCC W232 and livestream
- Great Minds: Using Tech to Create a Sustainable Food Supply |Jan. 6 at 1 p.m., LVCC W232 and livestream
- Keeping Up with the Climate Crisis: Smart Products and Smart Cities | Jan. 6 at 3 p.m., Venetian, Lando 4304
- Tech Policy Programs – CES gathers policymakers from across the world, including a record number of Members of Congress, to discuss domestic and global innovation policy issues.
- CES 2023 Innovation Policy Summit | Jan. 5-8, LVCC
- Conversation with a Commissioner – one-on-one conversations with Commissioners from key U.S. federal agencies | Jan. 7 at 9:40 a.m., LVCC N262
- Congressional Perspectives: Tech and Innovation Policy in the 118th Congress | Jan. 7 at 10:40 a.m., LVCC, N262
- Web3 and Metaverse Programs – The building blocks of the Metaverse will be on display at CES 2023.
- XR/AR/Metaverse - Revolutionizing Retail | Jan. 4 at 10 a.m., ARIA, Joshua 8
- The Road to the Open Metaverse | Jan. 5 at 11 a.m., LVCC N258
- Creating Applications in the Metaverse | Jan. 6 at 2 p.m., LVCC N262
- In the Zeitgeist: Metaverse Strategies for the Media and Entertainment Industry | Jan. 6 at 2:50 p.m., ARIA, Joshua 9
Events and Awards
- CES Unveiled Las Vegas – Registered media get a sneak peek of ground-breaking products and technologies at CES 2023 | Jan. 3, Mandalay Bay
- CES Media Days – Two days of back-to-back news conferences by companies featuring product launches and unveiling cutting-edge innovations before the show opens | Jan. 3-4, Mandalay Bay
- CES Innovation Awards – Annual awards recognizing outstanding design and engineering in consumer technology products
- XTC Startup Pitch Competition – Watch XTC's Top 8 venture-scalable startups pitch their innovations in Digital Health and FinTech plus Sustainable Smart Cities and Web3 | Jan. 5-6, LVCC Grand Lobby, CTA Stage
- Indy Autonomous Challenge – The Indy Autonomous Challenge (IAC) returns with the Autonomous Challenge @ CES, an autonomous racing competition featuring nine fully autonomous racecars roaring at speeds of more than 190 mph | Jan. 7 at 1 p.m., Las Vegas Motor Speedway
Resources
- B-Roll – High-definition video b-roll from CES is available for easy download
- CES 2023 App – Everything you need to plan for and navigate CES. Search "CES 2023" in your app store
- CES 2023 Schedule – Explore your options to connect, learn and be inspired
- CES Tech Talk Podcast – Download or subscribe to hear the top trends at CES
- Exhibitor Media Center - Media get free and easy access to the latest CES exhibitor news and assets
- Featured Speakers – See some of the many industry visionaries slated to speak at CES 2023
Owned and produced by CTA, CES 2023 will take place in Las Vegas on Jan. 5-8, 2023 with Media Days taking place Jan. 3-4, 2023. Attendees will experience new technologies from global brands, hear about the future of technology from thought leaders and collaborate face-to-face with other attendees. The show will highlight how innovations in sustainability, transportation and mobility, digital health, the metaverse and more are addressing the world's greatest challenges. Visit CES.tech for all CES 2023 updates, registration details, and the media page for all press resources."