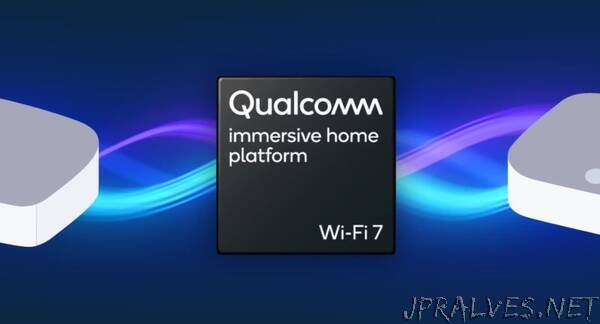 "New platforms feature next-gen Multi-Link Mesh capabilities with modular chipset architecture - sampling now to manufacturers of home routers and mesh Wi-Fi systems
Qualcomm Technologies, Inc. today unveiled its newest high-performance network offering for the home, the Qualcomm® Wi-Fi 7 Immersive Home Platform. Built to support the latest high-speed broadband connections and an array of high-performance devices populating today's hyper-connected homes, the Qualcomm Wi-Fi 7 Immersive Platform delivers more than 20Gbps of total system capacity in a compact, power-efficient, cost-effective network chipset architecture. The platform introduces Qualcomm® Multi-Link Mesh, a breakthrough in home networking connectivity ushering in a new era of extremely high throughput and real-time responsiveness.
"We developed the Qualcomm Immersive Home Platform to enable high-performance connectivity in a cost-effective, low-profile form factor delivering the newest innovations in home networking" said Nick Kucharewski, senior vice president and general manager, Wireless Infrastructure and Networking, Qualcomm Technologies, Inc. "Wi-Fi 7 brings powerful new capabilities which are best experienced using a tri-band system. Through this approach, Wi-Fi mesh can deliver performance gains for both new and legacy devices."
The new Qualcomm Immersive Home Platform is engineered to enable collaboration, telepresence, AR/VR, and immersive gaming applications of today and tomorrow's home. Offering multi-Gigabit coverage and low latency for modern applications, the Qualcomm Wi-Fi 7 Immersive Home Platform with Qualcomm Multi-Link Mesh allows for immediate performance benefits for both legacy devices and the newest Wi-Fi 7 connected devices. Sharing a common architecture with the production-ready Qualcomm® Networking Pro Series Wi-Fi 7 Platform, the newest Qualcomm Immersive Home Platforms are sampling now with commercial availability expected in the second half of 2023.
"Qualcomm Wi-Fi 7 Immersive Home platforms provide our customers with cost-effective, high-performance networking for any size home," said Aly Reyes, Managing Director, Consumer, Linksys. "We're excited to work alongside a company that is first in the industry to combine Multi-Link Mesh with advanced Wi-Fi 7 capabilities."
"Our work with Qualcomm grants us front-line access to the next generation of platforms that offer a complete portfolio of advanced Wi-Fi 7 capabilities to our customers," said David Henry, president & GM of Connected Home Products and Services at NETGEAR. "We're looking forward to combining this technology with our wireless RF and networking expertise to provide our customers with unique, high performance, multi-band Orbi Mesh products."
Qualcomm Wi-Fi 7 Immersive Home Platform Features:
- Qualcomm Multi-Link Mesh: Qualcomm Multi-Link Mesh redefines home networking through a novel model of dynamically managed client-facing and mesh-backhaul wireless links. Through a process of selecting, aggregating or alternating links in the 2.4 GHz, 5 GHz and 6 GHz unlicensed spectrum bands based on network conditions, device capabilities and home network topology, Qualcomm Multi-Link Mesh enables deterministic low latency for virtually lag-free gaming experiences with 75% reduction in real-time latency* in congested environments.
- Wi-Fi 7 Technology: Qualcomm Immersive Home Platforms can achieve extremely high performance with multi-Gigabit coverage over a wider area than ever before. Key features include:
- Expanded 5 GHz spectrum performance, with 240 MHz channels and 4K QAM modulation that can deliver 80% higher capacity compared to Wi-Fi 6.
- Maximized 6 GHz spectrum performance, with 320 MHz and 4K QAM modulation that can deliver 140% higher capacity compared to Wi-Fi 6E. Full support for the turnkey Qualcomm AFC Solution for corner-to-corner multi-Gigabit coverage. The Qualcomm AFC Solution is available for customer device integration today and once regulatory approvals are granted, the Qualcomm AFC Solution will be commercially available for use by the public.
- Support for Wi-Fi 7 Multi-Link and Adaptive Interference Puncturing for optimal operation even in congested home environments. Intelligent congestion avoidance algorithms ensure high performance even in the presence of potential interference from neighboring networks or other devices.
- Maximum connectivity to the latest high-performance devices, delivering peak speeds up to 5.8 Gbps to a single connected device.
- High-Performance Platform Innovation: The company's approach to the Qualcomm Immersive Home Platform is to deliver high performance home networking in cost-effective, low-profile form factors based on a modular and scalable design architecture, accelerating time-to-market. Key attributes include:
- Platform design optimized for size, power efficiency and cost-effectiveness, including utilization of advanced process node and fully integrated RF Front-End Modules (FEMs) for performance optimization.
- Highly differentiated configurations for customer designs. Featuring tri-band Wi-Fi 7 configurations ranging from 10 to 20 Gbps peak wireless capacity, nearly twice the capacity of comparable Wi-Fi 6 systems. Ideally suited for whole home mesh systems while enabling higher user count, higher speed connections, or extended range requirements."