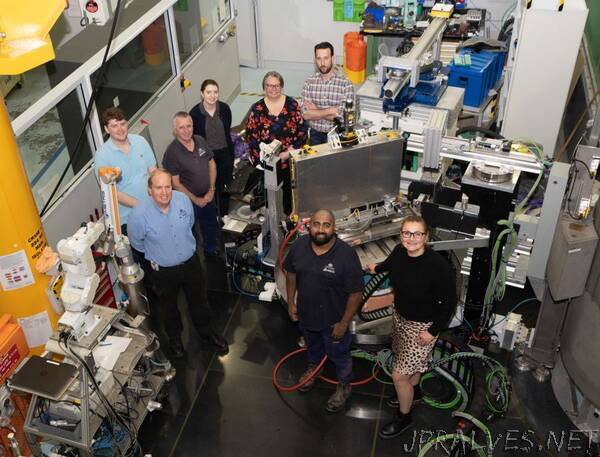 "ANSTO's capabilities to support additive manufacturing have been greatly strengthened with the installation of the first-in-the-world custom-built powder Laser Metal Deposition (LMD) system that can be used for in-situ* experiments at the Australia Centre for Neutron Scattering.
The project was co-funded by a Research Attraction and Acceleration grant from the Office of the Chief Scientist and Engineer (NSW), the National Collaborative Research Infrastructure Strategy (NCRIS) and ANSTO.
After eighteen months of design work and manufacturing, the system has been commissioned on the Kowari strain scanner.
The new LMD system enables researchers to undertake neutron measurements during powder-fed laser additive manufacturing and is expected to provide real-time information about the deposition process to enable further optimisation.
Although some refinements are needed to facilitate ease of operation and potential use on the other neutron instruments, Prof Anna Paradowska, Industry Engagement Manager Australian Centre for Neutron Scattering and Conjoint Professor at The University of Sydney, said the development of the sample environment system is a considerable technical achievement that was designed and constructed by ANSTO.
"We have a great technical and design team that pushed the boundaries of what could be achieved for this important area of research. For the first time, we can characterise and manufacture in-house," said Prof Paradowska.
LMD is an additive manufacturing process in which a laser beam is used to form a melt pool on the surface of a metal object. Metal powder is injected using a gas stream that also melts, forming a thin "additive" layer of new material on top of the base material.
It can be used to produce 3D parts or repair existing components, such as high-strength steel aircraft or civil structure components, with a bond that is as strong as, or in some cases stronger, than the original.
We expect that this unique LMD capability will greatly assist Australian researchers and companies to understand and optimise advanced manufacturing techniques and enhance sovereign manufacturing in Australia.
The ANSTO technical and scientific team who supported the project included Chris Baldwin, Adriano Pavan, Halsey Ostergaard, Mark Reid, Mark New, Adam Gallaty, Rachel White, Frank Darmann, Scott Olsen, Deborah Wakeham and Jamie Schulz.
*In situ experiments refers to the capacity to take measurements while a tehcnology is operating."