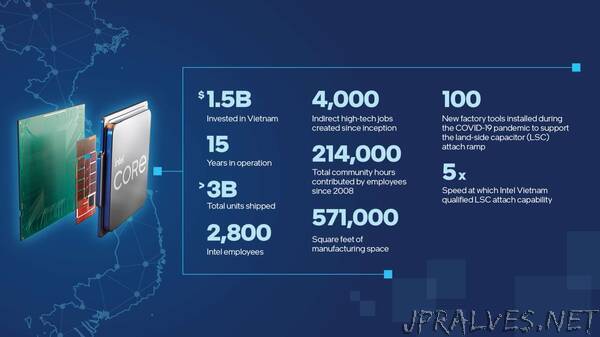 "Intel today recognized the contributions of its Vietnam site to alleviating constraints in the global semiconductor supply chain. Thanks to an innovative approach to processing substrates in its assembly and test factory, Intel delivered millions of additional units of chip production over the past year – meeting customer demand while the industry struggled to weather a shortage of this critical component.
Since the beginning of the global pandemic, surging demand for computing has placed the semiconductor industry at the epicenter of unprecedented supply chain disruptions. This has created a shortage of key chipmaking components, including a foundational piece of nearly every advanced processor in the world: the Ajinomoto build-up film (ABF) substrate.
Before a computer chip leaves the factory, it is mounted between a substrate and a heat spreader to form a completed processor. This "package" protects the chip and forms electrical connections between the processor and the circuit board in a computer. At a quick glance, the substrate looks like no more than a thin piece of green plastic. In reality, it is composed of about 10 layers of fiberglass, each linked by an intricate network of metal interconnects. A silicon chip must be placed within a few microns (a fraction of the thickness of human hair) to line up with electrical connections, allowing signals to flow from the motherboard through the substrate to the chip and back again.
mong the key parts of substrates are capacitors, devices that can store an electric charge. Capacitors reduce noise and impedance and maintain a constant voltage to the chip. For years, Intel has attached certain capacitors on one side of the substrate and relied on substrate suppliers to attach them on the other side. Now, Intel is attaching these components to both sides of the substrate in its Vietnam Assembly and Test (VNAT) factory. To enable this capability, the VNAT team dedicated factory floor space, purchased additional tools and modified existing ones to prepare for high-volume production, which began in May 2021.
"This is the ultimate demonstration of why integrated manufacturing is a benefit to Intel and our customers," said Kim Huat Ooi, vice president and general manager of Intel Products Vietnam. "By bringing this capability in-house, we are able to complete chip assembly more than 80% faster, while at the same time freeing up the substrate suppliers who are constrained on capacity. Over the past year, we demonstrated that this is a scalable manufacturing process with quality that matches that of our substrate suppliers. Going forward, we plan to continue to scale capacity to enable this approach for a broader range of products.""