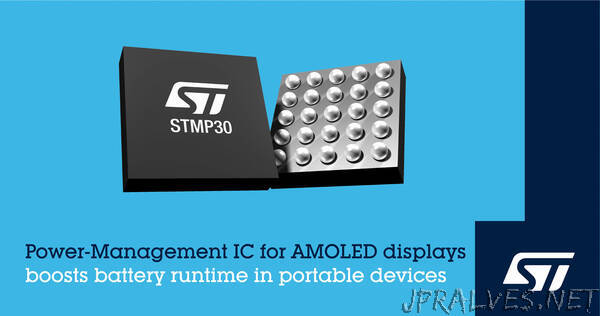 "STMicroelectronics' new fully integrated Power-Management IC (PMIC) for AMOLED displays combines a low quiescent current and enhanced flexibility to extend the battery runtime of portable devices.
With an input-voltage range from 2.9V to 4.8V, the STMP30 PMIC contains three integrated DC-DC converters to provide all the power rails needed for AMOLED displays in smartphones and other portable devices. The 550mA VOUT1 boost converter has an adjustable output voltage, unlike other devices that fix VOUT1 at 4.6V. The voltage can be set between 4.6V and 5.0V, in 100mV increments, to optimize the display brightness for lowest power consumption and best visibility under any conditions. The 5.0V maximum setting allows use of High-Brightness Mode (HBM) for best viewing in bright outdoor lighting.
The remaining two outputs are provided by a 550mA single-phase buck-boost inverting converter, programmable from -0.8V to -6.6V, and a 5.5V to 7.9V 150mA boost converter. The output voltages are programmed using Single-Wire (S-Wire) protocol through external pins. The PMIC also receives S-Wire messages to operate the AMOLED in Always-On Display (AOD) mode, which improves user convenience by showing information on-screen continuously at very low power.
The PMIC has a true shutdown mode that helps maximize power savings, as well as safety features that include thermal protection, input under-voltage lockout, and soft-start with inrush current limiting. In addition, the high-voltage outputs feature fast-discharge circuitry, and offer short-circuit protection.
ST's STMP30 AMOLED PMIC is in volume production now. Please contact your ST sales office for pricing options and sample requests."