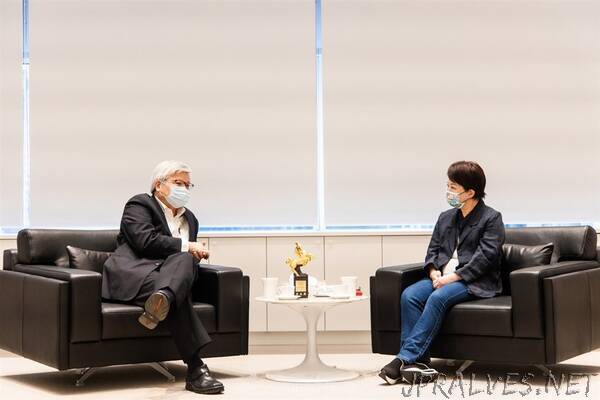 "A meeting between C.C. Wei, CEO of Taiwan Semiconductor Manufacturing Company (TSMC), and Taichung Mayor Lu Shiow-yen last week is believed by some industry analysts to be an indication that TSMC is planning to build a 2-nanometer process manufacturing plant in Taichung.
Wei was accompanied by three TSMC vice presidents — Wang Ying-lang of fab operations; Arthur Chuang of the facility division; and Jonathan Lee of corporate planning organization — on a visit to meet with Lu and a team of top city officials last Friday, the city government said in a statement issued Saturday.
The statement said that Lu had expressed hope that TSMC, the world's largest contract chipmaker, could build new plants in Taichung and help boost local economic development.
According to the statement, Wei replied that Taichung's excellent geographical and climatic conditions and many schools, malls, and hospitals make it attractive for technology talent to settle down and work there, and the city was a good choice for TSMC to expand its manufacturing capacity.
Lu touted Taichung's favorable investment environment, saying that since she took office three years ago, a number of companies have invested in the city, including the second phase of the expansion project of the Mitsui Outlet Park Taichung Port, the construction of a Mitsui Shopping Park LaLaport, and several offshore wind power projects, said the statement.
In addition, Lu said that the central government's three "Invest in Taiwan" initiatives, which were launched in 2019, had attracted 231 companies to Taichung, creating more than 21,000 local jobs, according to the statement.
Asked about the meeting, TSMC told CNA Saturday that the company had a wafer plant in Taichung and Wei had only paid a courtesy visit to the city government.
However, analysts said that there was no precedent for Wei, as TSMC CEO, to pay a visit to the local government of an area where one of its facilities was located.
Judging by the line-up of the TSMC management team at the meeting, analysts said the visit may have something to do with the company's plan to expand its 2nm manufacturing capacity in Taichung.
After TSMC began volume production of 5nm chips in 2020, it announced plans to start volume production of 3nm chips in the second half of 2022 and 2nm mass production in 2025.
TSMC plans to develop a plot of land in Hsinchu's Baoshan Township that will include a 2nm chip facility, but if the land is not sufficient for expanding its manufacturing facilities, the company might seek to build a new chip manufacturing plant in Taichung for expansion of its 2nm manufacturing capacity, according to a company source familiar with the matter."