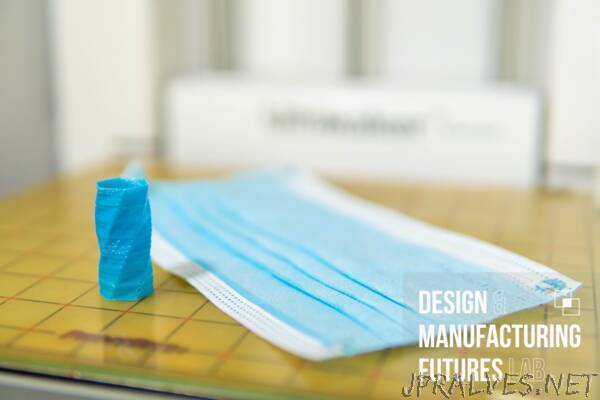 "As a first line of defence against the spread of COVID-19 the facemask, a simple covering worn to reduce the spread of infectious agents, has affected the lives of billions across the globe. An estimated 129 billion facemasks are used every month, of which, most are designed for single use. Naturally, this presents a challenge of immense scale to mitigate the impact of disused Personal Protective Equipment (PPE) on our environment.
Our lab here at the University of Bristol predominantly focuses on issues concerning Rapid Prototyping. We've been involved in numerous 'hack the pandemic' type projects since the outbreak of COVID-19, sharing our knowledge of Rapid Prototyping with the maker community at large. As such, our works under the title of Project Clean Access (PCA), a DMF lab initiative funded by the Royal Academy of Engineering, have previously contributed designs for low-cost, physical interventions to reduce the transmission of COVID-19.
However, as restrictions are slowly lifted and a sense of normality returns to many campuses across the UK, it's evident that we're now facing an altogether different problem; the pervasiveness of PPE litter in our local environment.
Over the years we've looked extensively at 3D printing technologies, methods, and materials and after realising that the common blue facemask is not 'some sort of paper' but usually a polymer based product with a high percentage of Polypropylene (PP), we started to ponder the possibility of turning it into something we could 3D print with on a desktop printer.
This raised an interesting question for us: Can we turn the waste from PPE into something useful for society, by turning disposable facemasks into a filament for 3D printing?"