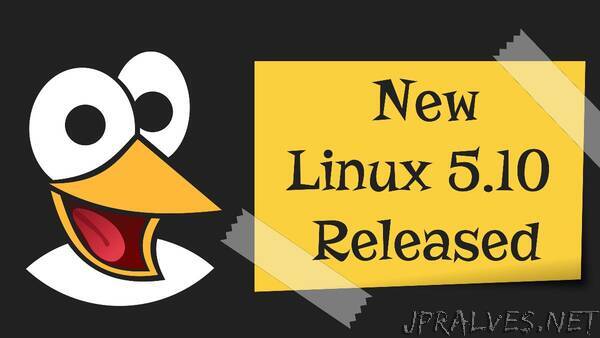 "As usual, after two months of development, Linux creator Linus Torvalds has officially released a new mainline Linux Kernel 5.10. It is also the latest Long Term Support (LTS) kernel, which will be maintained and receive bug fixes for the next five years until 2026.
What's New In Linux 5.10?
Starting with the update on filesystem side, XFS filesystem now supports timestamps to the Year 2486 instead of earlier limitation to the Year 2038, and EXT4 supports fast commit mode for faster file overwrite performance.
The Btrfs filesystem has also received significant performance improvements in the area of fsync operation.
Furthermore, this 5.10 LTS kernel now offers Raspberry Pi 4 display support with the VC4 DRM driver.
Among the other key changes, this is what kernel 5.10 includes:
- AMDGPU DC display support for GCN 1.0 "Southern Islands" graphics processors
- Support for Nintendo Switch controller
- Support for Ingenic MIPS X2000/X2000E IoT processor
- Initial RISC-V booting via EFI
- Support for register encryption in AMD's virtualized guests
- Support for ARM Memory Tagging Extension
- Creative Labs SoundBlaster AE-7 sound card support
- Support for Nitro Enclaves and a new Amazon Elastic Compute Cloud (EC2) capability
For more details about Linux kernel 5.10 LTS, you can also read a very well-documented page of Kernel Newbies or Phoronix.
With the v5.10 release, Linus Torvalds has also opened a two-week merge window for the next Linux 5.11. Starting today, he will begin merging the requested changes for a new development cycle into the mainline tree.
At last, if you want to install and try this new LTS kernel, it is available to download from the official page. You can also download the mainline kernel 5.10 build of your respective Linux distros like Ubuntu and Linux Lite.
However, it's also most likely to be shipped in the upcoming Linux distribution versions such as Debian 11, Mageia 8, and Ubuntu 21.04."