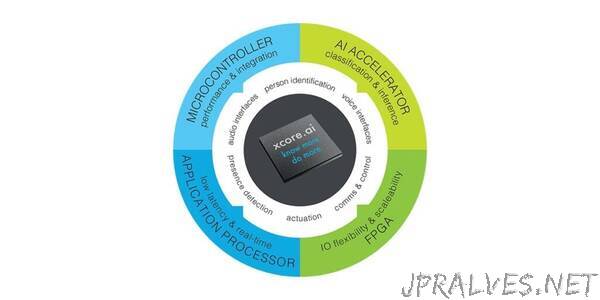 "From the company that brought out the highest performing voice interface for under a dollar, comes xcore.ai — the fast, flexible and economical processor, designed for the AIoT
Tech company XMOS today announces xcore.ai — its new, disruptive crossover processor for the AIoT market, which delivers high-performance AI, DSP, control and IO in a single device with prices from $1.
Traditionally this type of capability would be deployed either through a powerful (and costly) applications processor or a microcontroller with additional components to accelerate key capabilities. However, the new xcore.ai crossover processor from XMOS is architected to deliver real-time inferencing and decisioning at the edge, as well as signal processing, control and communications, enabling electronics manufacturers to integrate high-performance processing and intelligence economically into their products.
Today's smart devices typically require energy-hungry and costly connectivity to the cloud. This comes marred with challenges around latency, connectivity, privacy and energy consumption. By providing efficient, high-performance compute at the edge, xcore.ai delivers solutions to each of these challenges while keeping cost low and design potential high.
xcore.ai heralds an entirely new generation of embedded platform. It's the most versatile, scalable, cost-effective and easy-to-use processor on the market today. With its fast processing and neural network capabilities, xcore.ai enables data to be processed locally and actions taken on device —within nanoseconds. In the rapidly evolving AIoT ecosystem, this enables manufacturers to build smarter sensing technology that fits seamlessly into our lives.
But what does this all mean in reality and can xcore.ai help to change the user experience for the better?
Imagine the humble smoke detector — a device designed to ensure our safety. They've come a long way since the first alarm was patented in 1890, but do they do enough? Yes, they alert us to danger and we instinctively know to exit the premises when we hear the alarm, but how can we truly optimise the smoke detector to dramatically reduce risk and support rescue and recovery?
With xcore.ai embedded, a smoke detector could use radar and imaging to identify whether there are people in the affected building and, if so, determine how many and where they are located. Using voice interfaces, the detector could communicate with those inside, while vital sign detection could identify whether they are breathing. Put together, this builds an intelligent picture of the environment that can be fed straight to the emergency services, enabling an informed rescue operation, improving accuracy and speed of response.
XMOS CEO Mark Lippett said: "xcore.ai delivers the world's highest processing power for a dollar. This, coupled with its flexibility means electronics manufacturers (no matter their size) can embed multi-modal processing in smart devices to make life simpler, safer and more satisfying for all.""