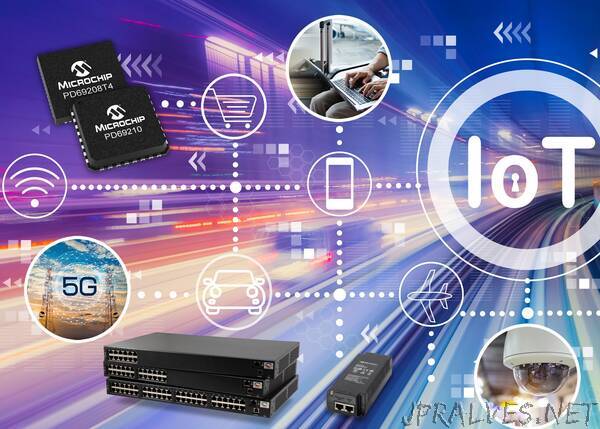 "Company's Power over Ethernet (PoE) offering enables both pre-standard and IEEE
802.3bt-2018-compliant devices to be powered within existing Ethernet infrastructure
As the industry adopts the latest generation of PoE technology for managing data and power over a single Ethernet cable, users face the challenge of making pre-standard powered devices (PDs) work alongside new IEEE® 802.3bt-2018-compliant PDs in an existing Ethernet infrastructure. Microchip Technology Inc. (Nasdaq: MCHP) has eased the transition with IEEE 802.3bt-2018-compliant PoE injectors and midspans for users and power sourcing equipment (PSE) chipsets for system developers that enable both pre-standard and IEEE-compliant PDs to receive up to 90W of power without changing switches or cabling.
"As both a system and chipset supplier that has contributed to IEEE 802.3bt-2018 and all major standards leading up to it, we are ideally positioned to provide an easy migration path for meeting 30W to 90W device powering needs with plug-and-play convenience," said Iris Shuker, PoE business unit manager with Microchip. "Combining extensive PD interoperability with firmware upgradability and more than 15 years of proven technology, our PSE chipsets offer a unique architecture that eliminates the need to redesign system boards or offer separate pre-standard and IEEE-compliant product lines. They are also at the heart of our IEEE 802.3bt-2018-compliant PoE injectors and midspans that bridge the interoperability gap for users."
Many proprietary solutions were brought to market through 2018 that support specifications such as Universal PoE (UPOE) and power over HDBaseT (PoH). They meet the higher powering needs of two-pair and four-pair PDs including kiosks, POS terminals, thin clients, 802.11ac/ax access points, small cells, smart buildings, industrial automation systems and connected LED lighting. During this period Microchip has offered a PSE chipset for implementing the widely adopted PoH four-pair power standard for 95W PDs. It is now the first to also offer an IEEE 802.3af/at/bt chipset that enables pre-standard switches to interoperate with new IEEE 802.3bt-2018-compliant products. Its complete IEEE 802.3bt-compliant offering includes:
PoE injectors and midspans:
- Users can power any combination of pre-standard and IEEE 802.3bt-2018-compliant PDs by installing the single- or multi-port solutions between PDs and their existing switch.
- Family includes single- and multi-port options that will also enable new IEEE 802.3bt-compliant switches to power pre-standard PDs.
PSE chipset and supporting PDs:
- The PSE chipset's unique design balances thermal dissipation more evenly across the system while enabling scalability for supporting two-pair and four-pair systems with a single board design. It provides all required manager and controller functionality for building PSE equipment with the industry's most extensive interoperability and can source 90 to 99.9 watts of power per port while supporting up to 48 ports for IEEE 802.3bt Type 3 (Classes 1-6) and Type 4 (Classes 7-8) applications.
- Earlier pre-standard PSE designs based on Microchip's Gen 6 PSE chipset can be upgraded to IEEE 802.3bt via a software update with no hardware changes.
- The dual-pack IdealBridge™ MOSFET-based full-bridge rectifier device is used on the powered side of the PoE connection and protects PDs against reverse-polarity connections while cutting power, space and costs of delivering IEEE 802.3bt Type 4 Class 8 power."