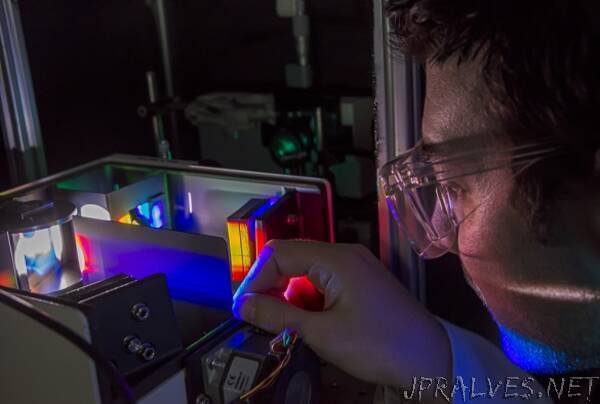 "The University's Stephenson Institute for Renewable Energy is part of a new research consortium that has been awarded £11.2 million by the Faraday Institution to explore and develop new materials for next-generation lithium batteries that can be used for electric vehicles.
The research aims to deliver improvements in the cost, performance and range of batteries used in electric vehicles, helping pave the way for zero emission transport.
The funding from the Faraday Institution will support a four-year project entitled Next Generation Lithium-Ion Cathode Materials (CATMAT) to carry out research on new positive electrodes (cathodes) for battery technologies, similar to those that have helped to power the worldwide portable revolution in mobile phones, and laptop and tablet computers.
Current batteries contain cobalt, and there is a need to eliminate or greatly reduce the need for cobalt, which has significant cost, ethical and environmental issues. The new project will aim to transform fundamental understanding of novel cathodes that currently prevent the use of nickel-rich cathode materials (with low or no cobalt) and lithium-rich cathodes.
The University's Stephenson Institute for Renewable Energy is a specialist energy materials research centre which focuses on the physics and chemistry that will transform the future of energy generation, storage, transmission and energy efficiency.
Director of the Stephenson Institute for Renewable Energy, Professor Laurence Hardwick said: "The Stephenson Institute for Renewable Energy will be providing its expertise in battery material testing and advanced ex situ and operando characterisation to this project and we look forward to collaborating with other university and academic partners on this project".
The consortium is led by the University of Bath and includes six university and 12 industry partners. Other academic partners include University of Birmingham, University of Cambridge, University of Oxford, University College London and Diamond Light Source,
Industrial partners include Johnson Matthey, LG Chem, Huntsman, Williams Advanced Engineering and Qinetiq,
Neil Morris, CEO of the Faraday Institution, said, "It is imperative that the UK takes a lead role in increasing the efficiency of energy storage as the world moves towards low carbon economies and seeks to switch to clean methods of energy production. Improvements in EV cost, range and longevity are desired by existing EV owners and those consumers looking to purchase an EV as their next or subsequent car.
Our research to improve this web of battery performance indicators (which are different for different sectors) are being researched, with a sense of urgency, by the Faraday Institution and its academic and industrial partners. Our fundamental research programmes are putting the UK at the forefront of this disruptive societal, environmental and economic change."
UK Research and Innovation Chief Executive, Professor Sir Mark Walport, said, "Bringing together experts across industry and academia, this exciting research will grow our understanding of battery chemistries and manufacturing methods, with the potential to significantly improve the UK's ability to develop the high-performance electric vehicles of the future."
Powering Britain's battery revolution, the Faraday Institution is the UK's independent institute for electrochemical energy storage science and technology, supporting research, training, and analysis. The Faraday Institution's mission is to accelerate breakthroughs in energy storage technologies to benefit the UK in the global race to electrification."