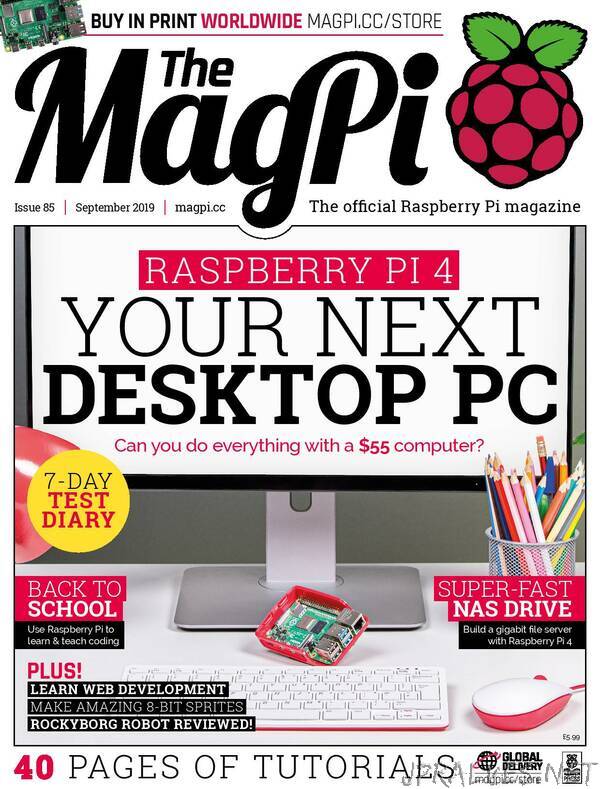 "Can you do everything with a $55 computer? We've been pretty confident about using Raspberry Pi 4 with 4GB RAM as our main desktop PC. This month we put it to the test, by getting one of our best makers to use nothing but Raspberry Pi 4 for a week. And report back the results!
PJ Evans has written a seven-day diary experience of using Raspberry Pi 4 as a desktop PC replacement. It's packed with advice, tips and tricks. The best replacement apps and online services and what works, and what isn't so good.
It's a thoughtful piece packed with useful insights. A vital read for any Raspberry Pi 4 owner.
Plus! All this inside The MagPi 85
Build a Super-fast NAS drive
Make your own gigabit file server with Raspberry Pi 4
Make amazing 8-bit sprites
Create stunning retro visuals with PICO-8
RockyBorg Robot reviewed
Three-wheeler runs riot around Raspberry Pi-towers
Build a GPIO Music box
Create a customisable music machine that you control at the touch of a button
Develop GUI combo boxes and lists
Create combo boxes for user input and associate list stores with them
Hit up Pi Fighter
Gamify real-world boxing with a Raspberry Pi punchbag
Watch the Bird Feed Monitor
Use Raspberry Pi to catch snaps of birds in your garden
Code a Rocket Rescue game
Use Squeeze controllers to build a space game
Plus! Win Raspberry Pi cases"