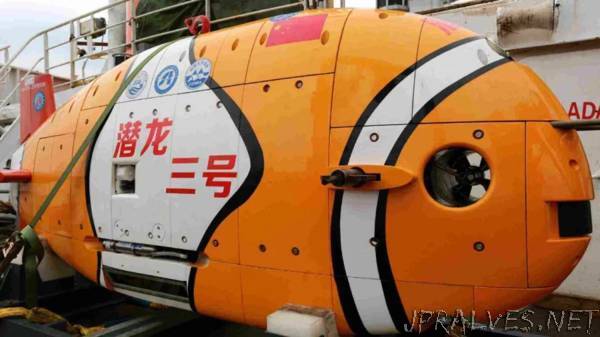 "Urged by President Xi Jinping to dare to do something that has never been done before, scientists say challenges could give China huge technology lead
China is planning to build a deep sea base for unmanned submarine science and defence operations in the South China Sea, a centre that might become the first artificial intelligence colony on Earth, officials and scientists involved in the plan said.
The project – named in part after Hades, the underworld of Greek mythology – was launched at the Chinese Academy of Sciences in Beijing this month after a visit to a deep sea research institute at Sanya, Hainan province, by Chinese President Xi Jinping in April.
Xi urged the scientists and engineers to dare to do something that has never been done before. "There is no road in the deep sea, we do not need to chase [after other countries], we are the road," he said.
The idea of an outpost for deep sea exploration has been a favourite of scientists, engineers and fiction writers for hundreds of years, while the Greek allegory of Atlantis has inspired many "city beneath the sea" stories.
The Hadal zone that would be home to the base is the deepest part of an ocean – typically a V-shape abyss – at a depth of 6,000 to 11,000 metres (19,685 to 36,100 feet).
The project will cost Chinese taxpayers 1.1 billion yuan (US$160 million), the scientists said. That is half as much again as the cost of the FAST radio telescope – the world's largest – in Guizhou province, southwest China.
Like a space station, the undersea complex will have docking platforms. Project engineers will need to develop materials to withstand the water pressure at such great depths.
"It is as challenging as building a colony on another planet for robotic residents with artificial intelligence," said a scientist who has taken part in the project. "The technology can change the world."
China sets its sights on bigger role in development of world's most powerful telescope
Robot submarines will be sent to survey seabeds, record life forms for cataloguing and collect mineral samples. As a self-contained laboratory, the station will analyse those samples and send reports to the surface.
While the base will depend on cables connected to a ship or platform for power and communication, its powerful "brain" and sensors will allow it to carry out autonomous missions.
Other scientists are sceptical about the project and think politics and technology will present big challenges.
The South China Sea is probably the most disputed waterway on the planet, with seven territories making conflicting claims over it. However, Beijing might share data and technology with neighbours to win their support, supporters said.
The deep sea floor is an extreme environment, where high pressure, erosion, volatile geology and quakes could threaten any structure on the seabed. That means the cost of such an ambitious programme could far exceed any estimates.
Dr Du Qinghai, associate researcher at the Hadal Science and Technology Research Centre at Shanghai Ocean University, said the 1.1 billion yuan budget, although unprecedented for a deep sea research facility, might be tight.
China developing robotic subs to launch new era of sea power
Facing enormous water pressure, the station will need to be significantly stronger and more compact than an equally costly land facility.
"It can be more difficult than building a space station. No other country has done this before," said Du, is was not involved in the project.
Much of the budget would be used to develop technology and materials, he said. For instance, sealing materials for the docking platforms must be extremely strong yet flexible.
The base would also throw up challenges for AI technology, he said.
About 99 per cent of the ocean floor, which covers more than 70 per cent of the Earth's surface, remains unexplored, according to the US National Oceanic and Atmospheric Administration.
Professor Yan Pin, researcher at the Key Laboratory of Ocean and Marginal Sea Geology, Chinese Academy of Sciences in Guangzhou, said the site of any subsea base needed to meet several requirements.
It must be sufficiently deep, with abundant geological activities for scientific studies but not too active or the base could be destroyed by a volcano eruption and landslide.
China's brightest children are being recruited to develop AI 'killer bots'
One candidate location is the Manila Trench, according to Yan, who has spent decades studying the South China Sea's floors.
"It is the only place in the South China Sea with a depth exceeding 5,000 metres," he told the South China Morning Post.
The Manila Trench is where the southeastern part of Eurasian plate meets the Pacific plate. Its deepest sea floor goes down 5,400 metres.
This presents problems – there was a lot of volcanic activity within the trench, Yan said. However, chemicals from as deep down as the Earth's mantle are carried up by thermal vents and they could contain geological information.
The Manila Trench is also one of the world's biggest quake zones. A study by the Institute of Geology, at the China Earthquake Administration in Beijing, this year estimated that a large quake in the trench could send a tsunami as high as four metres towards the Pearl River Delta area, including Hong Kong, within three hours.
The Manila Trench also lies close to Scarborough Shoal, where China and the Philippines had a stand-off two years ago.
Reward: China offers cash for civilians spotting foreign spy drones lurking in local waters
Although politically sensitive, it was not impossible that the unmanned subsea base would be built near the shoal, Yan said.
"China and the Philippines should sit down and discuss it. A tsunami [warning] is a big selling point. Data collected by the station would benefit all countries in the region. It could save many lives," he said.
China is proposing several marine facilities, including the world's first manned deep sea station, a habitat capable of housing dozens of people for up to a month at a time at 3km (1.9 miles) beneath the sea.
Beijing also plans to build 20 floating nuclear power plants, with the first expected to be sent into the South China Sea by 2020, to support commercial and military activities.
Chinese scientists say they have the key to building a space elevator. A what?
During his visit to the deep sea research institute in Hainan, Xi told scientists that China was a big ocean country with vast claimed waters, and there was a "march into the ocean to accelerate the build-up of maritime power".
Taking up that theme, Du said: "The project will make China stronger, more advanced. It will boost the material sciences, stimulate innovation and make Chinese manufacturing more competitive.
"It will make China a world leader in some critical areas.""