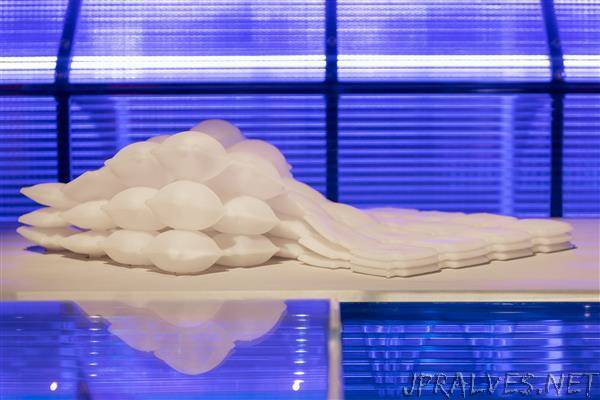 "BMW and MIT's Self-Assembly Lab collaborate to design the first printed inflatable material.
Self-Assembly Lab Team: Bjorn Sparrman, Shokofeh Darbari, Rami Rustom, Maggie Hughes, Schendy Kernizan, Jared Laucks, Skylar Tibbits
BMW Team: Sophie Richter, Akos Stegmar
The BMW Design Department in collaboration with MIT's (Massachusetts Institute of Technology) Self-Assembly Laboratory have successfully developed printed inflatable material technologies that self-transform, adapt and morph from one state to another. This visionary commission is showcased at the V&A and for the first time on display during their exhibition The Future Starts Here, which explores the power of design in shaping the world of tomorrow.
The BMW Design Department and MIT's Self-Assembly Laboratory have started their cross-disciplinary study two years back with the mutual ambition to push the boundaries of material technologies. BMW's forward thinking concepts of future interiors that can interact and adapt seamlessly were the starting point of an in depth exploration by MIT's Self-Assembly Laboratory. This collaboration resulted in the first example of a fully printed inflatable that can be customized to any size or shape. The silicone printed object can change shape depending on the amount of air pressure in the system. The pneumatic controls in the system allow the printed structure to transform into a variety of shapes, functions or stiffness characteristics.
The Future Starts Here brings together ground-breaking technologies and designs currently in development in studios and laboratories around the world. Drawing upon international research, and working closely with a range of companies, universities, practitioners and advisors, the exhibition explores over 100 projects shaping the world of tomorrow. The V&A delves into the forefront of cutting-edge design by showcasing ideas in the making. It is the first time that a museum gathers projects which are shaping the world of tomorrow at such a large scale. "We are proud to be one of the contributors to show our achievements", concludes Martina Starke, "The 'Liquid Printed Pneumatics' project is a perfect example for a fruitful cross-disciplinary collaboration we'll see more and more over the coming years, especially at BMW."
The Future Starts Here runs from 12 May to 4 November 2018 in the Sainsbury Gallery at the V&A Museum, London."