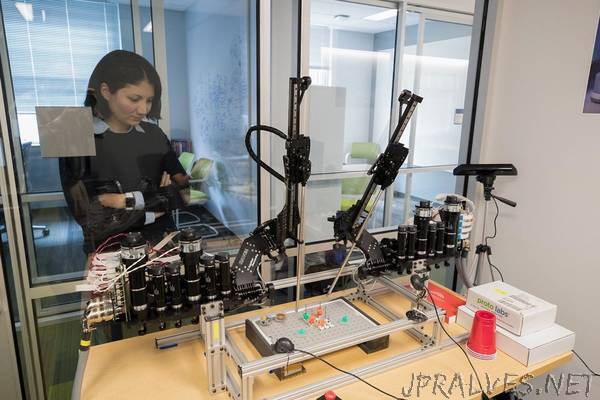 "Tucked away in a central room at the University of Virginia's Link Lab, the ultra-modern space on the top floor of School of Engineering and Applied Science's Olsson Hall, sits a non-descript cart. The cart is surrounded by the state-of-the-art, robot-assisted surgery equipment that is at the heart of research by Homa Alemzadeh and her UVA colleagues into the safety and security of these cutting-edge instruments of medicine.
On the bottom of the cart, sticking out amongst the new tools of the trade, sits the old-school children's game, Operation.
Why? Because Alemzadeh is a problem-solver, even solving problems before they present themselves. Explaining to children what the surgical robots actually do would be difficult, she knew.
"We can show [the game] to kids if they come in for the open house," said Alemzadeh, 35, a native of Iran and an assistant professor of electrical and computer engineering and of systems and information engineering.
Alemzadeh said she and her colleagues could entertain the younger visitors, using the 21st-century robot-assisted surgical equipment on the 1965 kids game.
"It's very difficult to do the game using the robot," Alemzadeh said with a laugh. "Travis Hite, the Link Lab program manager, first brought up the idea, and we thought it would be very cool."
Robot-assisted surgery has become standard of care in many specialties. According to the Intuitive Surgical Annual report, 877,000 robot-assisted procedures of various types were performed across the country in 2017.
Not all surgeries, however, are problem-free. A study by Alemzadeh and her colleagues on the reports made to the U.S. Food and Drug Administration databases from 2000 to 2013 revealed that surgical robots were involved in more than 10,000 adverse events, with 1,391 cases resulting in patient injury and 144 cases resulting in death.
Alemzadeh and four UVA colleagues – Dr. Leigh Cantrell (obstetrics and gynecology), Dr. Jose Oberholzer (surgery), Dr. Noah Schenkman (urology) and Inki Kim (assistant professor of systems and information engineering) – recently were awarded a Graduate Medical Education grant from UVA to tackle two critical issues for ensuring safety in robotics surgery.
First, the team wants to further collect and analyze the robot-assisted surgery errors – "troubleshooting data," as Alemzadeh puts it – to characterize the causes of adverse events and model and simulate them in virtual environments. And, second, they want to develop new simulation-based training methods for robot-assisted surgery – or, to put it simply, create the surgical equivalent of a flight simulator, that prepares surgeons on how to deal with adverse events."