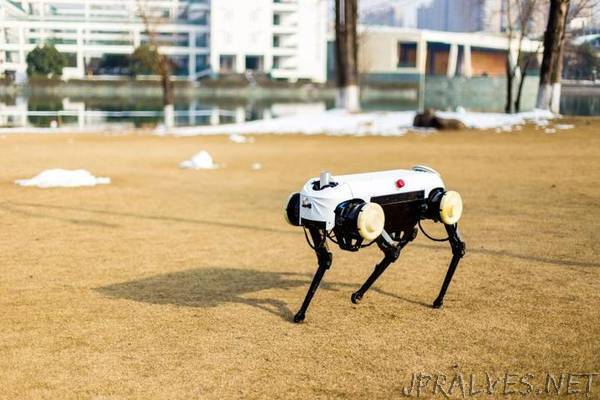 "With the Year of the Dog close at hand, a "robot dog" from ZJU makes its debut. This quadruped robot dog, called "Jueying", is able to clamber up a steep slope, walk on thick snow and regain its balance even after getting a heavy hit.
Jueying is devised by a research team led by Professor XIONG Rong at ZJU's College of Control Science and Engineering. "Its dazzling performance shows that China's technology in quadruped robot dogs has reached the world-class level," said ZHU Qiuguo, a leading professor in this project.
Jueying, weighing 7 kilograms with a length of 1 meters and a height of 0.6 meter, is capable of accomplishing various tasks.
"Driven by motor, Jueying can carry a load as heavy as 20 kilograms and move as fast as 6 kilometers per hour. It has mastered a set of skills, including running, leaping, ascending stairs, walking on a gravel road, and rising to its feet after squatting down on its own," said LI Chao, a participating team member.
At present, many researchers, both at home and abroad, are developing quadruped robot dogs.
"Jueying gains great technological advantages in flexible and smooth movements, quick and accurate responses and remarkable adaptabilities in the face of a complicated environment," said Professor ZHU Qiuguo.
"For example, when it is about to lose its balance upon stepping on a steel pipe, it is able to make a prompt decision and maintain a balance through a series of adjustments, which human beings may even fail to accomplish. This is dependent upon an effective integration of system and control," Professor ZHU added.
The team has improved the existing algorithm of "Jueying" and made it smarter. Like a real animal, its brain can analyze its situation quickly and command its limbs to make corresponding movements to avoid falling over. Even if it stumbles, it can roll over and stand up again.
Jueying's lifelike movement is also ascribable to its elaborate mechanical configuration. "Like human limbs, Jueying's limbs are also controlled by kinetic energy so that they can interact better with the environment," said ZHANG Xueyin, a participating team member. "This way, it can walk more flexibly and naturally, thereby being able to walk out of the lab and play a crucial role in daily situations.""