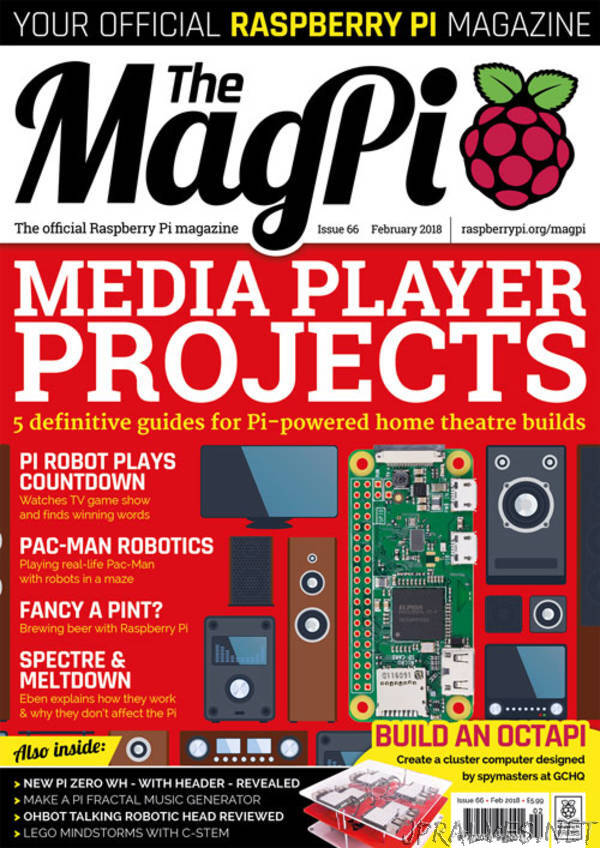 "Media Player Projects
With its HDMI socket and small form factor, the Raspberry Pi can quickly become a much more versatile media player than the ones you'd buy in the shops. This month, we've got a range of sound and vision projects that can put your Raspberry Pi at the heart of your entertainment. With it you can stream movies, play television shows, and listen to music tracks and radio. It's a great introduction to digital making with a Raspberry Pi.
Build an OctaPi
Turn eight Raspberry Pi computers into an OctaPi- the cluster computer designed by spymasters at GCHQ.
Plus! All of this inside The MagPi 66
- 3D Pac-Man: Pac-Man VS comes to life with a robotic hero and ghosts
- Fuzzy duck beer: Brewing ales with the help of Raspberry Pi
- Rosie The Robot: This amazing robot watches, and wins, the TV show Countdown
- Plus! New Pi Zero WH, Pi Fractal music generator & OhBot talking robot"