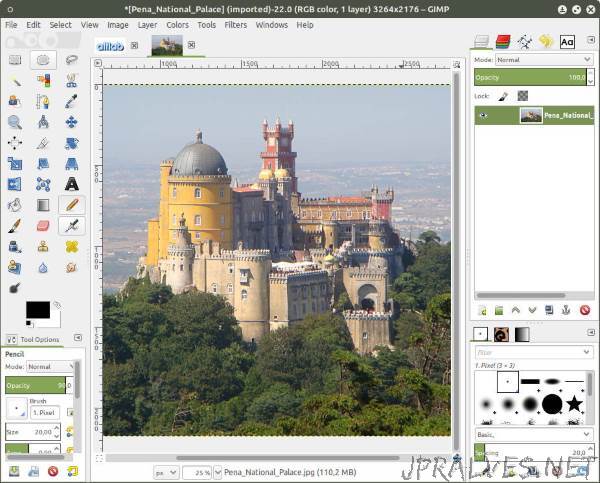 The name of the program refers to the acronym GNU Image Manipulation Program. As it is Open Source, its distribution is free which does not mean in any way that it has quality issues.
The version that was analyzed is 2.8.
It can be used as a simple image editing program, such as a professional photo retouching tool such as a batch processing online system, an image converter between formats, etc.
GIMP is expandable and extensible through a system of plugins and extensions that allow you to do just about anything. The tasks that need to be performed on the tool can be scripted.
GIMP was written and developed on UNIX but the code with the appropriate adaptations was ported to run on Windows and Mac OS X.
Features:
Painting
  - Complete set of painting and drawing tools including Brush, Pencil, Airbrush, Clone, etc.
  - Sampling sub-pixel for all drawing tools to get a high-quality anti-aliasing.
  - Gradient editor and blend tool very powerful
  - Support for custom and default brushes
System
  - Block-based memory management which allows the image size to be limited to free disk space only.
  - Opening a virtually unlimited number of images.
Advanced Manipulation
  - Full alpha channel support
  - Layers and channels
  - Multiple levels of world / redo
  - Editable text layers
  - Processing tools including rotation, scaling, cutting and flip
  - Selection tools include rectangle, rounded rectangle, ellipse, free and fuzzy
  - Foreground Extraction Tool
  - Advanced path tool with selections of bezier and polygonal.
  - transformable paths, transformable selections.
  - Quick mascara to paint a selection.
Extensibility
  - A procedural database for invoking internal

GIMP

functions from external programs such as Script-fu
  - Possibility of making advanced scripts in several languages ​​(Scheme, Python, Perl)
  - Plug-ins that allow you to add new file formats and new effects filters.
  - More than 100 plug-ins already available
Animation
  - Load and Save Animations in Layer frame format
  -

MNG

format support
  - Frames Browser (

GAP

-

GIMP

Animation Package)
  - Skin Onion (

GAP

-

GIMP

Animation Package)
  - Bluebox (

GAP

-

GIMP

Animation Package)
File Handling
  - Supported file formats include bmp, gif, jpeg, mng, pcx, pdf, png, ps, psd, svg, tiff, tga, xpm, and many others
  - Open, show, convert and burn to a lot of formats
  - import and export of

SVG

 Paths
The image presented at the beginning of this chapter has been improved using the filter "Unsharp Mask".
Below is an image that was generated by the option File|Create|Logos|Neon…

It is a tool that is at the level of other commercials, it is worth trying.
Useful links: