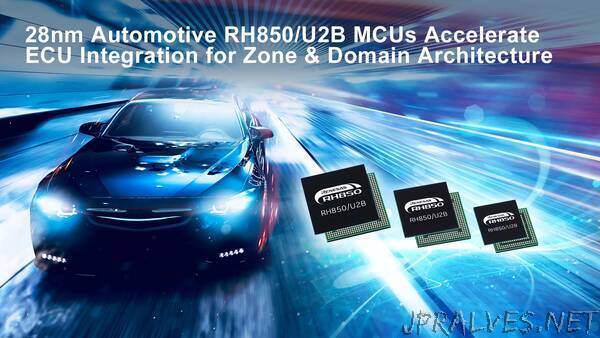 "Renesas Electronics Corporation, a premier supplier of advanced semiconductor solutions, today introduced a powerful new group of microcontrollers (MCUs), the RH850/U2B MCUs, designed to address the growing need to integrate multiple applications into a single chip and realize a unified electronic control unit (ECU) for the evolving electrical-electronic (E/E) architecture. Delivering a combination of high-performance, flexibility, freedom from interference, and security, the cross-domain RH850/U2B MCUs are built for the rigorous workloads required by vehicle motion in terms of hybrid ICE and xEV traction inverter, high-end zone control, connected gateway, and domain control applications.
With this, Renesas expands its cross-domain MCU portfolio with devices that range from RH850/U2A MCUs for body and chassis control systems up to high-performance RH850/U2B MCUs. Customers can also combine these MCUs with Renesas' R-Car S4 system-on-chip devices for automotive central gateway systems to build a scalable solution for E/E architectures.
"The future of automotive systems design lies in a vehicle-centralized, zone-oriented E/E architecture, which elevates the need for automotive chips that address the challenges these innovative architecures create for future vehicle generations," Naoki Yoshida, Vice President, Automotive Digital Products Marketing Division at Renesas. "The RH850/U2B MCUs expand Renesas' cross-domain MCU family to offer customers higher levels of performance, memory integration, and hardware-based support for new zone- and domain-control applications, particularly for powertrain and HEV/EV, while maintaining the stringent cost, safety, and security parameters required for these automotive systems."
Designed for zone and domain applications, the 28nm RH850/U2B MCUs build on key functions from Renesas' RH850/E2x Series for powertrain and RH850/C1M-Ax Series for HEV/EV motor control, while adding several new enhancements including new accelerator IP, higher performance levels, and increased security. This combination enables users to integrate multiple ECU functions into a single ECU while adhering to stringent automotive-grade safety, security, and real-time operation requirements.
The MCU's integrated hypervisor hardware-based virtualization assist function allows multiple software systems with up to ISO26262 ASIL D functional safety levels to operate independently, without interference, during high performance, and reduces the virtualization overhead to maintain real-time execution. Quality-of-Service (QoS) provides a latency monitor and regulation function for all bus masters to ensure minimum bandwidth is always available. The RH850/U2B MCUs support safe and rapid full no-wait OTA software updates with dual-bank embedded flash that allows the ECU to update and save images while the MCUs are in active mode and enables the ECU to operate from the original code if a failure occurs. Integrated motor control accelerator IP (EMU3S) works in conjunction with multiple dedicated motor control timer structures like GTM v4.1 and TSG3 to dramatically reduce CPU processing loads while achieving high-speed rotation. Dedicated data flow processor (DFP) accelerator IP enables the CPU to offload compute-heavy operations for complex control.
Additional Features of the RH850/U2B MCUs
- Up to eight 400MHz performance cores with four of them in lockstep architecture delivering the top level performance among automotive MCUs with built-in flash targeting ASIL-D and ASIL-B applications
- Integrated security functions that support the Evita Full standard, including elliptic curve cryptography, for enhanced protection against cyberattacks
- New high-performance motor control accelerator IP (EMU3S) that works in flexible conjunction with multiple dedicated motor-control timer structures like GTM v4.1 and TSG3
- Dedicated resolver/digital converter accelerator IP (RDC3X) that processes analog signals from a motor rotational angle sensor (resolver) or an inductive position sensor
- DR1000C: A RISC-V-based parallel co-processor IP with vector extension (DFP), licensed from NSITEXE, Inc., to support the fast execution of complex mathematical algorithms
- State-of-the-art communication interfaces, including Gigabit Ethernet TSN with switch support
- Multiple instances of AES128 lock-step modules for conflict-free, deterministic safe and secure communication"