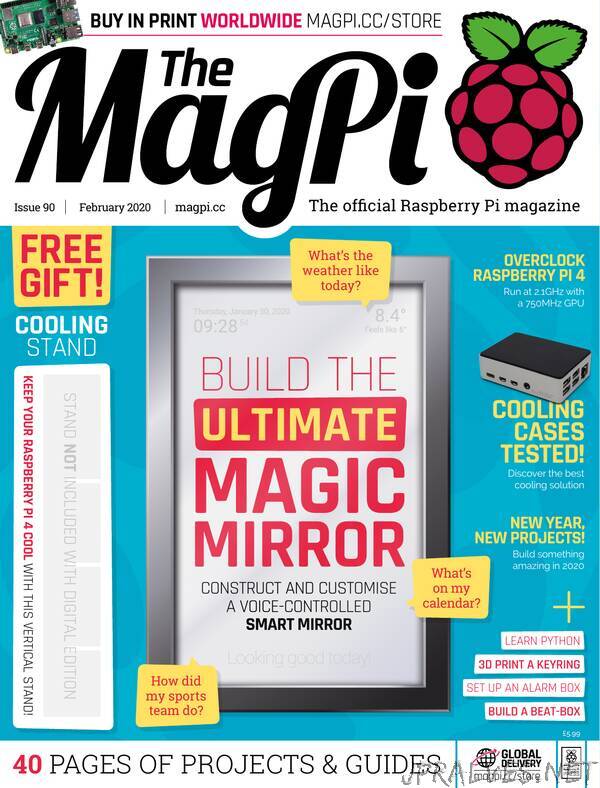 "Get your free Raspberry Pi 4 Stand with the print edition of The MagPi issue #90. Plus! How to overclock Raspberry Pi 4 and the best cooling cases tested!
All this inside The MagPi magazine issue #90…
-Overclock Raspberry Pi 4. Run Raspberry Pi faster with our guide to updating the config settings to boost the speed.
-Cooling cases tested. Gareth gets his thermal camera out and tests a range of passive and active cooling cases. Discover the best way to keep your Raspberry Pi cool.
-Build the ultimate magic mirror. Use a Raspberry Pi touch screen display and an A5 observation mirror to build a spectacular voice-enabled magic mirror.
-New Year; New Projects. Get inspired to make something in 2020 with our guide to inspirational projects.
-WeatherMan. Martin Mander has turned a classic Sony Walkman into a weather-predicting smart device. A shiny music box with a clear door for a screen proves an ideal upcycling candidate for an eighties tech fan
-Tri-Lasers for Felines. This robotic laser pointer keeps the modern cat entertained.
-3D-print your own keyring. Use BlocksCAD to design a 3D-printed keyring.
-Learn Python with Raspberry Pi. It's the one language you absolutely must learn. PJ Evans picks the best Python resources out there.
-Raspberry Pi Recovery Kit! Jay Doscher's tough Raspberry Pi can be used in the most extreme weather conditions.
-Plus! Win one of five ProtoDock add-on kits.
Please note: Raspberry Pi 4 Stand is NOT included with digital edition."