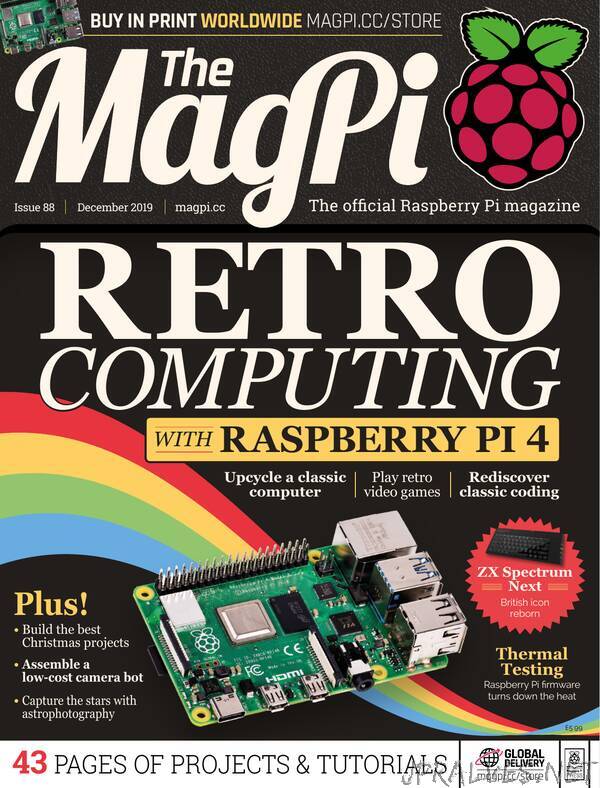 "Rediscover retro computing and thermal-testing the new firmware. All in the latest edition of The MagPi magazine.
Plus! All this inside The MagPi magazine issue 88…
Raspberry Pi 4 Retro Computing. Upcycle vintage computers with a super-fast Raspberry Pi 4; build your own DIY arcade console; and buy the best gaming kit. Everything you need to fall in love with classic computers all over again.
Thermal-testing Raspberry Pi 4. Discover how firmware updates are ensuring Raspberry Pi 4 runs cooler than ever.
The ZX Spectrum Next. Behind the scenes with the attempt to build a new classic computer using Raspberry Pi as a co-processor.
Capture the stars. Using an astrophotography autoguider to take perfect pictures of the night sky.
Add a camera to a low-cost robot. Build a small wheeled robot with a Raspberry Pi Camera Module to record video as it travels about.
The Swirl Machine. How to make fantastic art by throwing wine around.
Set up smart Christmas lights. Hack your Christmas tree with Raspberry Pi and make it festively voice-controlled.
Release a PICO-8 game. Add some shine to a retro game and release it so other users can play it.
Win! A PiArm robot arm kit"