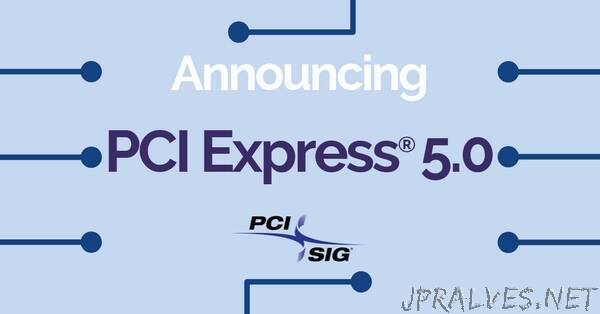 "PCI-SIG® today announced the release of PCI Express® (PCIe®) 5.0 specification, reaching 32GT/s transfer rates, while maintaining low power and backwards compatibility with previous technology generations.
"New data-intensive applications are driving demand for unprecedented levels of performance," said Al Yanes, PCI-SIG Chairman and President. "Completing the PCIe 5.0 specification in 18 months is a major achievement, and it is due to the commitment of our members who worked diligently to evolve PCIe technology to meet the performance needs of the industry. The PCIe architecture will continue to stand as the defacto standard for high performance I/O for the foreseeable future."
"For 27 years, the PCI-SIG has continually delivered new versions of I/O standards that enable designers to accommodate the never-ending increases in bandwidth required for next generation systems, while preserving investments in prior generation interfaces and software," noted Nathan Brookwood, research fellow at Insight 64. "Over that period, peak bandwidth has increased from 133 MB/second (for the first 32-bit parallel version) to 32 GB/second (for the V4.0 by16 serial version), a 240X improvement. Wow! The new PCIe 5.0 standard doubles that again to 64 GB/second. Wow2. We have come to take this increased performance for granted, but in reality, it takes a coordinated effort across many members of the PCI-SIG to execute these transitions so seamlessly."
PCIe 5.0 Specification Highlights
Delivers 32 GT/s raw bit rate and up to 128 GB/s via x16 configuration
Leverages and adds to the PCIe 4.0 specification and its support for higher speeds via extended tags and credits
Implements electrical changes to improve signal integrity and mechanical performance of connectors
Includes new backwards compatible CEM connector targeted for add-in cards
Maintains backwards compatibility with PCIe 4.0, 3.x, 2.x and 1.x
_The new specification increases performance in the high-performance markets including artificial intelligence, machine learning, gaming, visual computing, storage and networking.
- Made in Taiwan, Powered by NVIDIA: TAIWANIA 2 Supercomputer Comes Online
#NVIDIA #Hardware
1406319550.jpg
"Supercharged by 2,000+ NVIDIA V100 Tensor Core GPUs, Taiwan's fastest ever supercomputer showcases AI capabilities._
The first "made in Taiwan" AI supercomputer, TAIWANIA 2 is a milestone in Taiwan's promotion of AI as a core tenet of its future development and will be used by academic and research communities at the Taiwan Computing Cloud in Taiwan
In addition to placing high on the TOP500 list of the world's fastest supercomputers, TAIWANIA 2 ranks 10th on the Green500 list of the most efficient systems in the world. Both rankings are the best ever recorded in the history of Taiwan.
Powered by 2,016 NVIDIA V100 Tensor Core GPUs, TAIWANIA 2 can deliver 9 petaflops of computing power to support high performance computing and AI workloads at scale.
This extreme processing power means it can feed 1.76 million images into an AI model for deep learning training in the time it takes to snap your fingers. And it will lead to massive speedups for tasks such as pathogen identification and disease diagnosis, handling a week's worth of computation in as little as five hours.
TAIWANIA 2 joins a lineup of record-breaking systems that use NVIDIA V100 GPU accelerators, including Summit, the world's fastest supercomputer, based in the U.S.; Europe's fastest supercomputer, Piz Daint; and Japan's No. 1 system, ABCI.
"Taiwanese companies are now valuing up their products and services to secure the competitiveness in the global market and AI is the key driving force," said Liang-Gee Chen, Minister of Taiwan's Ministry of Science and Technology. "The greatest ever TAIWANIA 2 AI system in Taiwan was built with the most advanced technology to make it a powerful tool for industry to innovate. We are now witnessing a new wave of revolution that adopts AI solutions to open up new business possibilities."
TAIWANIA 2 is the result of an AI initiative launched last year by Taiwan's Ministry of Science and Technology, Asustek Computer, Quanta Computer and Taiwan Fixed Network and NVIDIA to boost Taiwan's AI capabilities.
Industry Leaders Work Together
The supercomputer represents a 60x growth of Taiwan's computing capability within three years, a huge leap forward compared to its predecessor, TAIWANIA 1.
The seven-month construction of the system was a massive, and massively complex, project. It was supervised by the National Center for High-Performance Computing and the National Applied Research Laboratories under the Ministry of Science and Technology, along with industry leaders Quanta Computer, Asustek Computer and Taiwan Fixed Network, which assisted with computing nodes and storage, cloud service system and information security, respectively.
"Quanta is pleased to contribute our technology and expertise for the best supercomputer that keeps the momentum of strengthening Taiwan's AI going," said Barry Lam, founder and chairman of Quanta Computer. "AI is now included in our business operations as well, and we, as a company, are looking forward to how we can benefit from these computing services."
TAIWANIA 2's powerful computing performance will be used initially to support government-led projects such as national territory modeling from the Ministry of the Interior, cultural heritage reconstruction from the Ministry of Culture, natural disaster prevention and control from the Ministry of Economic Affairs, and precision medicine from the Ministry of Health and Welfare.
Adoption for various industrial applications such as healthcare, smart cities, smart manufacturing, fintech and more are planned for deployment later.
NVIDIA Powers HPC Now and Beyond
According to Gartner, enterprises in Asia are deploying AI faster than any other region in the world for services like chatbots, process optimization and fraud and transactional data analysis for the insurance, telecom and retailing industries. These computation-intensive tasks are all GPU accelerated.
To ensure every organization from every domain gets the essential computing capacity needed for their AI and HPC workloads, NVIDIA works with governmental authorities to build up dedicated environments as well as cloud service providers such as Microsoft, Google, IBM and Oracle to make GPU acceleration accessible and scalable."