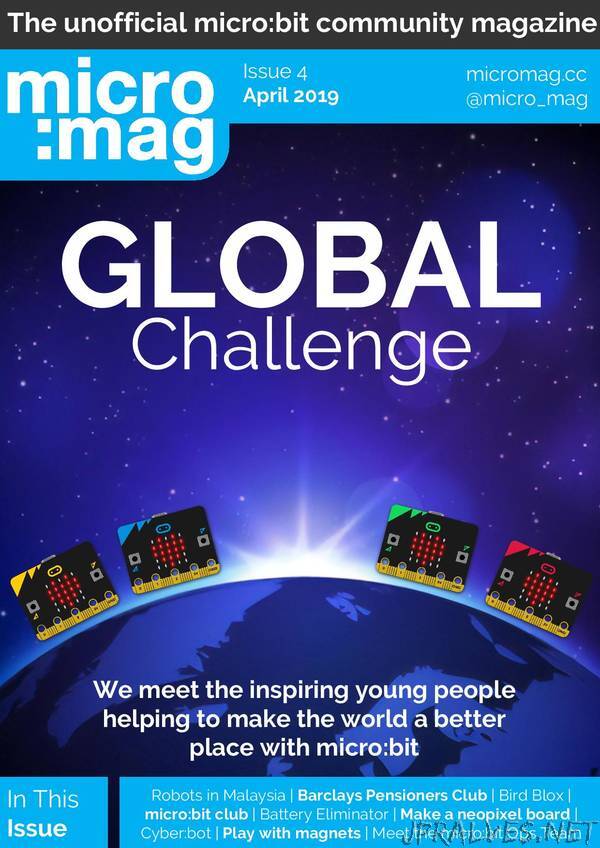 "Today, we're excited to announce the release of micro:mag Issue 4! We've got an amazing Issue packed full of amazing articles by our awesome community. Here is a quick look at what we've got to offer. Enjoy Issue 4!
Global Challenge
This issues Cover feature is "Global Challenge". In 2018, the Micro:bit Educational Foundation with Arm and World's Largest Lesson challenged students aged 8-12 across the globe to consider how these Goals could change the lives of themselves and others and to design solutions to these Goals using the micro:bit. The challenge was supported by a number of delivery partners, the Global Challenge competition saw hundreds of entries from a diverse range of countries, cultures, and backgrounds. There were hundreds of entries showcasing unique ideas tackling the Safety challenge or the Non-communicable diseases challenge! In this exciting cover feature, we learn more about the challenge and meet the winners.
BirdBlox
BirdBlox is a free and open source app for programming the micro:bit and the Hummingbird robotics kit on iOS and Android tablets and smartphones. BirdBrain Technologies developed BirdBlox to meet the needs of schools and other places in which iPads or Fire tablets are the main computing option. In Issue 4, we learn how to use this tool to live code the micro:bit from an iPad.
Plus, a selection of extra things in Issue 4:
Playing with magnets: Les Pounder shows us how to use magnets to alter the micro:bit's compass.
Battery Eliminator for micro:bit: Build your own regulated 3.3v power supply for micro:bit.
Review of: Pimoroni's Bear Badge Bit:Kit
Make your own Neopixel-Style LED board for under £1: Make an awesome multi-LED neopixel-style LED board with cardboard.
Information on other articles can be found in the contents pages."