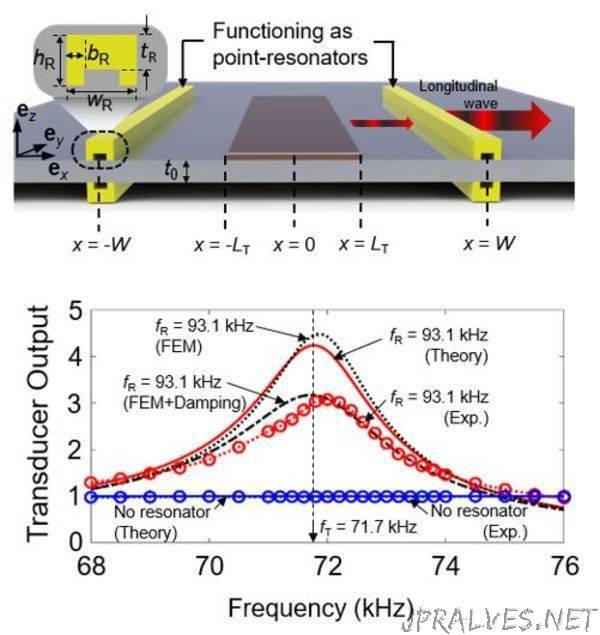 "Opens a New Prospect in Sensor Technology for Fault Diagnosis of Machinery, Non-Destructive Testing, and IoT
Korean researchers developed a technology that can significantly amplify vibrations and ultrasonic signals used to detect abnormalities in mechanical devices and structures.
SNU College of Engineering (Dean Kook Heon Char) announced on 13th that research team led by Professor Yoon Young Kim of the Department of Mechanical and Aerospace Engineering has developed a new technology that greatly amplifies sensor signals by adding a pair of resonators to where the vibrational and ultrasonic wave sensors are attached.
Conventional sensor signal amplification technology faced limitation as related researches narrowed themselves to only the sensor itself. However, Kim's team led a paradigm shift to widen their view and use metamaterials to reduce the effective mechanical resistance around the sensor to hence amplify the signal.
The team demonstrated with experiments that the signal of piezoelectric sensor, a sensor commonly used for measuring vibration and supersonic signals, can be amplified more than 300% using this newly-developed technology. The technology is expected to have a wide range of application beyond sensing like vibrational and ultrasonic excitation.
Professor Kim stated, "This technology was developed with the idea that when dislocated amplifier is attached, the mechanical resistance around the sensor technically becomes zero. I expect that this technology will have great ripple effect in the field of machine fault diagnosis as it can be integrated to the sensor technology, a key part of IoT."
The findings of this research were published online on Nature Communications (First Author: Kiyean Kim) on December 10th. This research was conducted with the support of the Global Frontier Program of the Ministry of Science and ICT, Center for Advanced Meta-Materials, and the National Research Foundation of Korea."