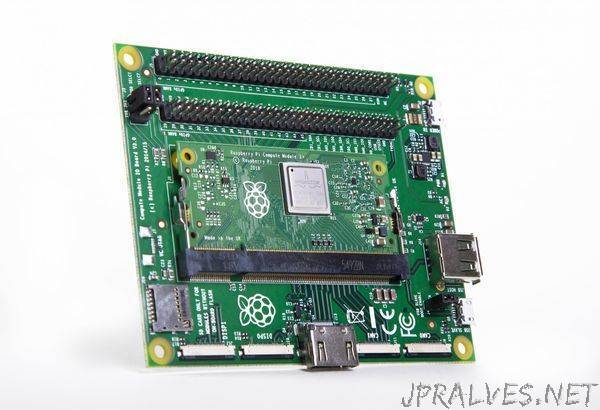 "Today we bring you the latest iteration of the Raspberry Pi Compute Module series: Compute Module 3+ (CM3+). This newest version of our flexible board for industrial applications offers over ten times the ARM performance, twice the RAM capacity, and up to eight times the Flash capacity of the original Compute Module.
A long time ago…
On 7 April 2014 we launched the original Compute Module (CM1), with a Broadcom BCM2835 application processor, a single-core ARM11 at 700MHz, 512MB of RAM, and 4GB of eMMC Flash. Although it seems like yesterday, that was nearly half a decade ago! At that point I had no kids, looked significantly younger (probably because I had no kids), and had more hair (fortunately I'm still better off in that department than Eben). [This is fair – Ed.]
Just under three years later we launched Compute Module 3 (CM3) based on the quad-core BCM2837A1, and now, almost exactly two years on, we bring you the CM3+.
The Compute Module has evolved
While we've greatly improved the performance, RAM capacity, and Flash capacity of the Compute Module, some things remain the same: CM3+ is an evolution of CM3 and CM1, bringing new features while keeping the form factor, electrical compatibility, price point, and ease of use of the earlier products.
Our aim for the Compute Module was to deliver the core Raspberry Pi technology in a form factor that allowed others to incorporate it into their own products cheaply and easily. If someone wanted to create a Raspberry Pi-based product but found the Model A or B Raspberry Pi boards did not fit their needs, they could use a Compute Module, create a simple low-tech carrier PCB, and make their own thing.
It's for enterprises of all sizes
We limit the price so that the "maker in a shed" is not disadvantaged when producing only a few hundred products relative to professionals with much larger production runs. The Compute Module takes care of the high-tech bits (fine-pitched BGAs, high-speed memory interfaces, and core power supply), allowing the designer to focus on the differentiating features they really care about. The eMMC Flash device on a Compute Module is more reliable and robust than normal SD cards, so it is more suited to industrial applications. The Compute Module also provides more interfaces than the regular Raspberry Pi, supporting two cameras and two displays, as well as extra GPIO.
CM1 and CM3 have proven very popular, with sales increasing steadily. We don't generally get to see what the majority of our module customers are using them for, because they're often companies that understandably want to keep the insides of their products secret, but one nice example application is Revolution Pi from Kunbus. Many NEC digital-signage displays incorporate a socket for CM3, and there are some excellent community efforts too, of which our current favourite is this nifty dual camera board. We've also seen enterprising companies start offering turnkey design services using the Compute Module, such as that offered by Kunst Engineering.
So what is Compute Module 3+?
CM3+ is derived from the CM3 board, but incorporates the improved thermal design and Broadcom BCM2837B0 application processor from Raspberry Pi 3B+. This means that, with the exception of a small increase in z-height, CM3+ is a drop-in replacement for CM3 from an electrical and form-factor perspective. Note that due to power-supply limitations the maximum processor speed remains at 1.2GHz, compared to 1.4GHz for Raspberry Pi 3B+.
One of the most frequent requests from users and customers is for Compute Module variants with more on-board Flash memory. CM1 and CM3 both came with 4GB of Flash, and although we are fans of the Henry Ford philosophy of customer choice ("you can have any colour, as long as it's black"), it was obvious that there was a need for more official options."