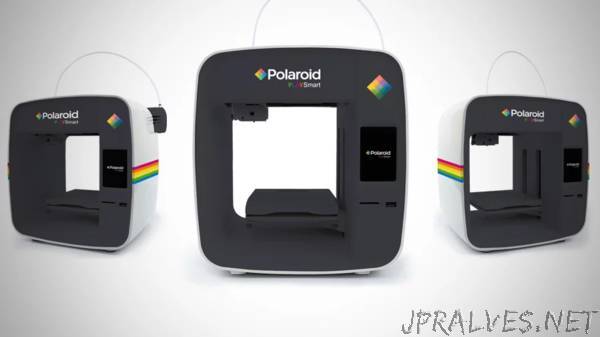 "Iconic imaging and technology brand, Polaroid, is unveiling the brand-new Polaroid PlaySmart 3D printer at CES 2019 for the UK and European markets. The Polaroid PlaySmart is an affordable, lightweight, desktop 3D printer with Wi-Fi print technology, via a user-friendly mobile app, that will fit easily into any home, classroom or office environment.
Key features of the Polaroid PlaySmart 3D printer:
120 x 120 x 120mm print size
5-inch LCD touch screen, with step-by-step instructions to aid in your model creations
Layer height ranging from 50 to 300 microns
1Kg Polaroid universal PLA filament included at no extra cost (RRP €31.95)
One-click instant print via models stored in the printer memory
200 MP camera for live monitoring from wherever you are
Quick-release and quick-replace 0.4mm nozzle
Compatible with the Polaroid universal filament range including PLA, ABS, PETG and more
Print via SD card, USB, mobile app & Wi-Fi
360° fan duct to instantly cool your filament
Aluminium-magnesium alloy heated print bed
2GB ROM for model storage and video playback (video automatically recorded of every print)
Also included at no extra cost, the Polaroid precise filament holder & scale, allowing you to know exactly how much filament you have left on your reel at any time (€26.95)
Lightweight at just 5KG
Elegantly designed and user-friendly, the Polaroid PlaySmart 3D printer's software allows users to easily download and import models (including pre-existing designs available for free) and print them with just two clicks of a button.
The Polaroid SmartPrep software platform enables the effortless preparation, editing and printing of multi-coloured models. Simply import and edit .stl files (with thousands of pre-existing designs already available for free), and then it's as simple as two clicks to print!
For more experienced users, the advanced settings allow you to make optional changes to the way your model prints. Although the Polaroid PlaySmart 3D printer has only one extruder, you can easily print models in multiple colours. By selecting "multi-colour" in Polaroid SmartPrep, you can pre-set points on your model for the printer to automatically pause, allowing you to change your filament colour.
When saving your file, the software tells you exactly how long your print will take and how much material it will require. Using the Polaroid precise filament holder & scale you can then ensure you have enough filament, so you'll never run out half way through a model.
This clever little printer has 2GB of built-in memory, so you can store your models for easy and quick future printing with just one click of a button. The Polaroid PlaySmart 3D printer also comes with a free download for the Polaroid PlaySmart app, enabling prints to be sent and monitored via Wi-Fi from the app itself. Send models to print, monitor your print and control the printer, all through the Polaroid PlaySmart app, which is free to download from the Google Play Store or the App Store.
The Polaroid PlaySmart 3D printer is due for release on 1st March 2019 and will be available throughout Europe with an RRP of €449.
EBP (Environmental Business Products), an authorized Polaroid licensee, is Europe's largest and longest established collector and remanufacturer of inkjet cartridges with over 20-years' experience and credibility in the print industry. The ongoing collaboration with Polaroid positions EBP as the sole partner for the Polaroid 3D print solutions, within the European market*.
"Since we first launched the Polaroid ModelSmart 250S 3D printer at CES in 2016 and our Polaroid Play line of 3D pens in the years since, we've had a great response from users in the UK and Europe who are looking for accessible 3D printing products." said April Lunde, CEO and General Counsel at Polaroid. "We're excited to bring to market our first small format, desktop 3D printer in the UK and Europe, opening up the world of 3D printing to even more users. The Polaroid PlaySmart 3D printer is an easy-to-use and affordable option to introduce 3D printing into any home, classroom or business."
"We are delighted to bring this exciting new product to market to add to our now established range of Polaroid 3D products," said Amy Horn, Category Direct at EBP. "3D Printing is now a global phenomenon and we are thrilled to launch this high-quality, great value for money and easy-to-use printer suitable for any user. We can't wait to see what 2019 has to offer for this product!""