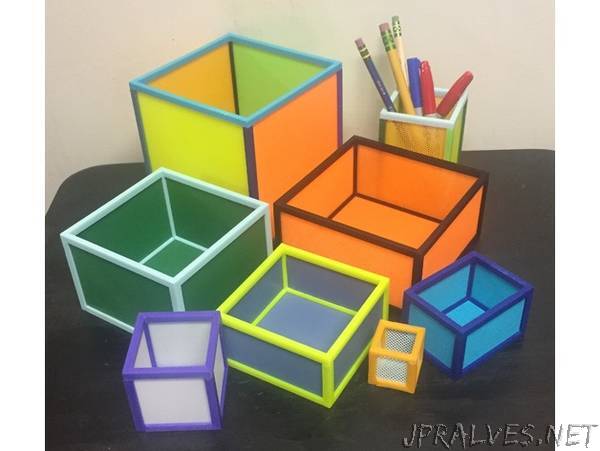 "I initially made this in Tinkercad then I made a customizable .SCAD file in OpenSCAD.
a box is made of 6 different parts - 10 pcs total
"CORNERL_LH" - (corner L - length & height) - need 2 pcs
"CORNERL_WH" - (corner L - width & height) - need 2 pcs
"RIM" - (rim around top) - need 1 pc
"PANEL_LH" - (side panel - length & height) - need 2 pcs
"PANEL_WH" - (side panel - width & height) - need 2 pcs
"PANEL_B" - (bottom panel - with feet or no feet) - need 1 pc
Support is needed for CornerL pcs but not for Panels or Rim.
All pieces are solid. No infill. I figured strength would be necessary so I didn't even try it otherwise. I ran CornerL pcs & Rim a little hotter than normal for better layer adhesion because the square pins broke off in early versions.
I ran everything in .2mm layers including initial layer of .2mm
I have included a fully customizable .SCAD file
I also included .STL files for the following box sizes (LxWxH):
35x35x35 with a thin 3mm rim
60x60x60
60x80x50
70x70x100 - a pen cup
100x100x50
120x120x80
140x140x70
140x140x140 - the maximum size my printer can make
A larger sized bottom panel will "droop" if loaded down & unsupported so I included optional "feet" on the bottom panel for support.
The panels are solid, .8mm thick, 4 layers, .2mm each. To get the "screen" look, you adjust slicer settings. Set top/bottom thickness to zero. Then it is just outer walls & infill. 50-60% infill seems to work well. Turn on the "alternate extra wall" setting to ensure infill is sufficiently attached to walls. I use 1.6mm walls (.4 nozzle) to ensure enough strength when inserting into slots.
You can easily add text or a design to the solid side panels with your 3D design software before printing. the possibilities are endless!
ASSEMBLY
Be careful. Don't break off the square pins. Carefully trial fit pins & holes & lightly sand as needed, but not too much. A tight fit is best. Trial fit panels in slots & lightly sand as needed. Maybe round off panel corners a bit to help fit. Make sure all support material is out of slots & square pin holes. This may be difficult. Special tools may be required. Be careful not to poke or cut yourself as I did. Many times…."