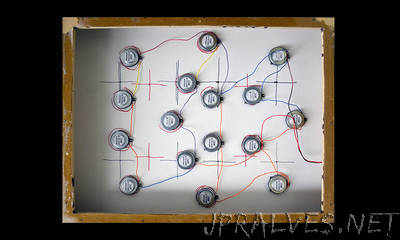 "Imagine your new home theater features a screen that serves as an extended loudspeaker, able to radiate sound linked to moving video images. Then picture your walls and ceiling lined with flat-panel loudspeakers that double as wall-art, light panels, or ceiling tiles.
What if you were able to create this totally immersive sonic space for a modest price – say a couple of thousand dollars?
"This is the new audio experience that we want to give people," says Mark Bocko, professor and chair of electrical and computer engineering at the University of Rochester.
Bocko is working on the project with his PhD student, Michael Heilemann, and former PhD student David Anderson, who has graduated and joined the electrical and computer engineering department. Their work could result not only in sonically immersive home theaters, but also make airport and subway public address systems easier to understand, and give signs a "voice" of their own. It's an example of cutting edge audio technology being developed at Rochester that could also be commercialized here, helping establish the city as a key player in sound.
Bocko, who also directs the Center for Emerging and Innovative Sciences, is one of the organizers of Light and Sound Interactive, a conference and tradeshow to be held in Rochester September 12 to 14. It will showcase the city's potential to take a leading role in other growing or emerging audio and visual technologies, including virtual and augmented reality, interactive games and media, and new displays and cinema."