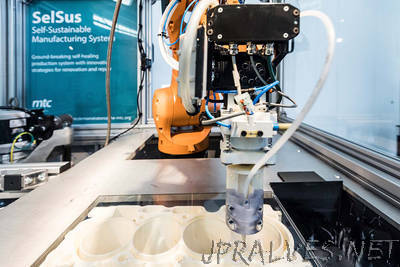 "In the EU-funded project SelSus, Fraunhofer scientists are collaborating in a consortium with partners from research and industry to develop maintenance technology capable of forecasting machine downtimes in production before they occur. This allows plant managers to rectify faults before the machine breaks down. The system even corrects some defects automatically.
Unforeseen machine failures during ongoing production – plant managers dread them, technicians detest them and managers just sigh and factor them in. Such incidents prompt frantic repairs, drive up costs, adversely affect delivery reliability and ultimately weaken companies' competitiveness. Yet often the problem is only a small defect or normal wear and tear. However, if left undetected, these can lead to major disruptions and production downtimes.
What would be helpful is a diagnostic procedure capable of monitoring the status of all components in the production line, identifying problems and weak points and informing the responsible employee in a timely manner. Based on what's known as a decision-support system, maintenance personnel can then reach a decision and take targeted action to repair the defect. Ideally without having to interrupt production.
Precisely this is one of the underlying ideas, albeit not the only one, behind the ambitious SelSus project within which the Fraunhofer Institute for Manufacturing Engineering and Automation IPA is currently researching. "The aim is not just to monitor the status of the machines and components. Using intelligent software and sensor networks, the plan is to detect potential weak points or signs of wear and tear early enough for the system to be able to predict potential malfunctions," explains Martin Kasperczyk from Fraunhofer IPA. The developed diagnostic models also directly provide suggestions or recommendations on how to rectify the problem. Project partner Electrolux in Pordenone, Italy, uses such a decision-support system. The system is capable of predicting with a certain probability potential failures on a press for washing machine facings and of diagnosing actually occurring malfunctions. The data needed to monitor the machine status is partially provided by sensors. They measure values such as energy consumption, temperature, oil pressure, particles in the oil or vibrations. Fraunhofer IPA and the participating consortium have also proved that the technology functions reliably in practice."